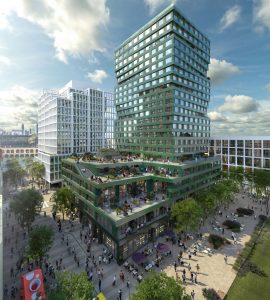 Studio Gang's 23-story multi-family residential tower, to be built on an area of 29,265 m2 (315,000 sf), in San Francisco's Mission Rock neighborhood, is designed to maximize communal connections within the building and the neighborhood, and access to natural light with a profusion of biophilic elements.
This tower is the fourth and final building in the first phase of the San Francisco Giants' and Tishman Speyer's creation of a dynamic 28-acre, mixed-use waterfront community across from Oracle Park. In addition to designing the residential tower, Studio Gang facilitated the collaboration among design architects of the Phase One buildings to establish a cohesive architectural language for the neighborhood. The other spaces in Mission Rock are another MVRDV-designed residential tower, two commercial buildings, and a China Basin Park designed by SCAPE. Henning Larsen and WORKac are two other architecture firms involved in the design of the community.
Designed to become the new neighborhood's central social hub and community gathering space, it will host amenity and outdoor spaces, a variety of street-level shops and cafes, as well as nearly 2322 m2 (25,000 sf) of co-working space, in addition to 254 rental apartments. It is expected to open in 2024, and the construction work on it broke ground recently.
"The building is designed to work with its adjacent buildings to set up a welcoming and diverse neighborhood from day one—a place where people want to be and where they can comfortably get to know each other and spend time together. The tower's base incorporates a range of storefronts and micro-activations at street level that give the building a human scale," says Studio Gang founder Jeanne Gang. "We have also carved into the base to create an inviting outdoor space with sunny planted terraces and raked seating, like a mesa, where residents can socialize and relax, taking in views of the activity in the main public square below."
The sculpting strategy continues up the tower, where floor plates are carved back at the corners to create comfortable outdoor terraces. Oriented and shaped to maximize sunlight and minimize wind, the terraces feature impressive views of the surrounding city and bay, while continuing the "community topography" started at the mesa. Subtle variations in color bring added character to the tower.
A lively "sky garden" will adorn the top of the tower, where residents of Mission Rock can relax, socialize, and enjoy the view. The garden's regionally appropriate plantings will create an attractive place for birds, butterflies, and other pollinators to visit, supporting healthy biodiversity within the city.