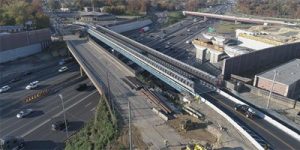 A temporary, two-way bridge will be in place at Browning Road in Camden County, New Jersey, while the original Browning Road Bridge undergoes replacement. This project, taken on by infrastructure developer Acrow, is part of the New Jersey Department of Transportation's (NJDOT) I-295 Direct Connect project.
The Direct Connect initiative is designed to improve safety and reduce traffic congestion at the intersection of I-295 with I-76 and Route 42 by providing a new direct passage for I-295 through traffic. Acrow's structure is serving as a detour over a dozen lanes of I-295 and Route 42 during the replacement of the Browning Road Bridge. The bridge replacement is necessary as the roadway below will be widened ahead of the overhead placement of the new core I-295 roadway.
The two-lane bridge is 137 m (450 ft) long in two spans of 73 m (240 ft) and 64 m (210 ft), with a roadway width of 7 m (24 ft) to maintain two-way traffic on Browning Road. There are cantilevered footwalks on each side of the structure, one for pedestrians and one to carry utilities. Spanning two main highways, the bridge was assembled in sections and installed with a full cantilever launch assisted with a large D8 pushing dozer.
The contractor for this phase of the Direct Connect program is South State, Inc., with Dewberry serving as design engineer. It is anticipated the temporary bridge will be in place for two years until completion of the new bridge.