Government buildings
Government projects can include any number of facilities such as local police stations, town halls, and municipal buildings. A key focus on these buildings is security, both of sensitive materials and personnel. Top-grade builders hardware—such as locks that are certified by BHMA—are essential to ensuring top-level security.
BHMA A156.30, High-security Cylinders, is commonly used for government buildings with features over and above typical cylinders. Products under this standard must pass three categories of tests: key control, destructive, and surreptitious.
Key control means limiting accessibility to key blanks, such as creating no markings on the keys or leaving trails of the bittings (the geometry of a key) or serial numbers; it also applies to electronic locks that control the audit trail and time-zoning. For destructive tests, the locks undergo drilling and impact evaluations over and above the normal amount. Surreptitious tests seek to ensure a lock provides safety against picking. They ensure high levels of resistance to picking and bumping, which are common lock-breaking techniques.
BHMA-compliant hinges have anti-friction bearings so they hold up for long-lasting use. For higher security use, hinges with non-removable pins that perform at Grade 1 level are tested to withstand 2.5 million cycles.
In addition to high-security cylinder locks, all the lock and exit device standards have security concerns designed into them. Latching products have security operating hardware standards as well.
While government buildings are rightly focused on security, they also have access needs, to ensure smooth functioning in places often visited by the public. Power-operated doors produced to ANSI/BHMA A156.10, Power-operated Pedestrian Doors, and ANSI/BHMA A156.19, provide access by automatically opening. In some doorways, levers have replaced knobs.
Government buildings must often follow International Code Council (ICC) A117.1, Accessible and Usable Buildings and Facilities, for accessible routes. The operable part of a door in this case must be functional with one hand, and should not require tight grabbing or twisting of the wrist. Buildings following this code need to consult BHMA standards for lever locks, exit devices, or power-operated doors to ensure compliance.
Certified products
BHMA is primarily concerned with safety and performance, but builders hardware is also expected to be functional and attractive. It is imperative to ensure the finish holds up on any visible components, and are subjected to constant wear and tear.
BHMA ensures this under A156.18, Materials and Finishes. Products with certifications for finishes undergo testing—such as salt spray, ultraviolet (UV) resistance, hardness, humidity, and solvent resistance—to ensure a product will not scratch, corrode, or discolor. A product frequently touched generally has higher requirements than a product not in constant contact with users, such as a door closer.
A BHMA-certified product can be distinguished from other products by the "BHMA Certified" logo on the product or its packaging. A list of certified products can be found in the BHMA Certified Product Directory (www.buildershardware.com/cpd_entry.html).
Conclusion 
Designing a building or facility for both ease of access and security is a complex task. It can often come down to the details of whether or not a plan is successful. Relying on the BHMA standards allows specifiers and architects to ensure the builders hardware they use will help them bring plans to life.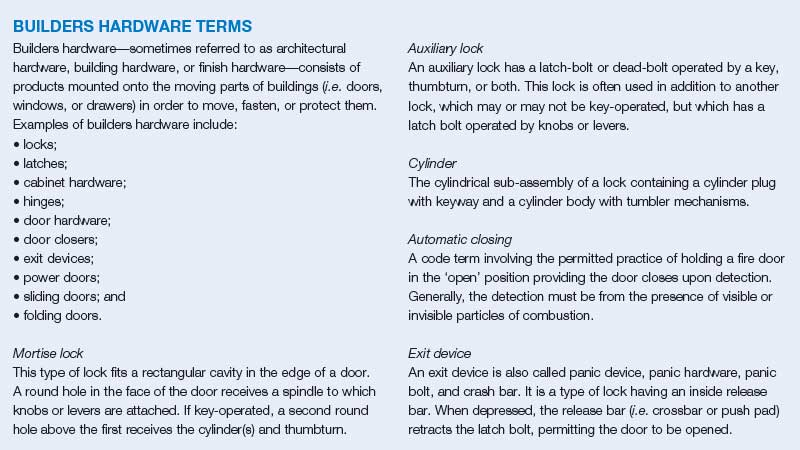 Michael Tierney has been the standards coordinator for the Kellen Company since 1999. He coordinates the development and revision of 35 Builders Hardware Manufacturers Association (BHMA) performance standards covering a broad range of products form gaskets to hinges to power operated doors. Tierney is a principle member on technical committees for the National Fire Protection Association (NFPA), the International Code Council's (ICC's) A117 Committee for Accessible Buildings, ASTM, and American National Standards Institute (ANSI). He can be contact via e-mail at mtierney@kellencompany.com.