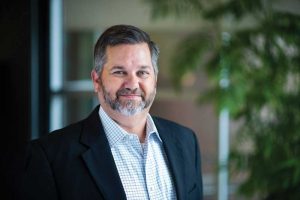 TO BE SPECIFIC
by Marvin Kemp, AIA, FCSI, CDT
The Great Recession of 2008 was a watershed moment for me individually, and for the construction industry as a whole. I had only been with my current firm for three years and I watched as 25 percent of the firm's work evaporated overnight. We were slow to act but ultimately reduced our full workforce by 40 percent and those who remained took 15 percent pay cuts in two installments. It was a tough time for construction professionals all over.
Throughout that period, CSI was a point of stability for so many of us when everything else was uncertain. Why? It was then, as it is now, because of the people in our community.
The CSI community strives to be open, inclusive, and sharing. This community helped many of us reimagine our careers, supported and deepened our strengths, and pushed us to new heights during that difficult time.
I was one of those who needed that network for the first time, and I can think of countless members whose phones rang—literally within hours of having been laid off—with offers of new jobs.
I never lost my job through the Great Recession, but I always knew who to call if I did.
Now, we find ourselves together in a different version of 2008, with the added stress of the pandemic. Some of us are experiencing layoffs, others are worried about potential layoffs, and we are all wondering what will happen next.
Those of us in the CSI community who reimagined our careers in 2008 are showing others how to do that now.
Those of us who used our CSI network to find work in 2008 are showing others how to do that now.
Those of us who worked hard to show our worth to employers in 2008 are showing others how to do that now.
CSI is a strong community of personal and professional support, and that is why I am proud to serve you as CSI Board Chair.
Seventy years ago, we set out to enable architects, engineers, and contractors to communicate more effectively. That effort became the numbers and titles that enable professionals to organize and communicate their designs to the whole project team.
We continue to improve project delivery, support product representatives as advisors, educate and credential thousands of professionals annually, and our standards and formats are the bedrock of designs and specifications in North America.
Yet, by the turn of the 21st Century, CSI was in trouble as an organization. We were struggling to maintain members and relevance in the industry.
I have heard from some of you that we are seen as out of touch, that we are slow to adapt, too rooted in the past, and that we are not connected to the industry as a whole, and for some of you this may ring true. But what else can be true?
We are teaching and mentoring each other and our next generation of design and construction professionals in the right way to conduct our business. We are at the center of every design and construction project, helping solve problems each and every day. We are constantly working to improve communication within our project teams and end the adversarial relationships that have hounded our industry for far too long.
Yes, we have seen membership decline, but our credentials continue to prepare increasing number of professionals for work in our industry every day. Industry leaders know that, so we test over 1000 construction documents technologist (CDT) candidates each year. Due to our standards, formats, and certifications, our members are working with leaders in design, construction, and technology across our industry.
I have heard from members who want us to "go back" to when we were 18,000 members and had 10,000 attendees at our tradeshow. I attended those shows, and they were exhilarating. The ice-cream socials and packed tradeshow floor cemented my love for CSI. Networking with and learning from professionals across the industry encouraged me to become more involved in CSI leadership.
While we might long for past glory, the Great Recession and now a pandemic have reinforced there is no path back, only forward. Our industry has changed—not for good or bad—it has just changed.
CSI is changing and evolving, too, and that is both uncomfortable and exciting. Yes, the future is unknown but I do know that we cannot simply visit our future; we must create it, and do it together.
We will not look back to what we were but forward to what we can be. CSI is changing the story from what we are, not to what we will be. We will be a center for innovation. We will elevate our profession. We will create a better sense of community, and we will do this together.
The future is not a place we will go together; it is a place we will create together. Please join me and let us get to work.
Marvin Kemp, AIA, FCSI, CDT, is chair of the CSI Board.