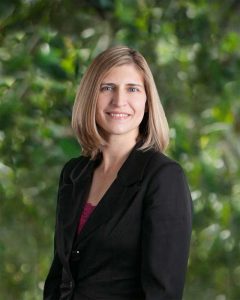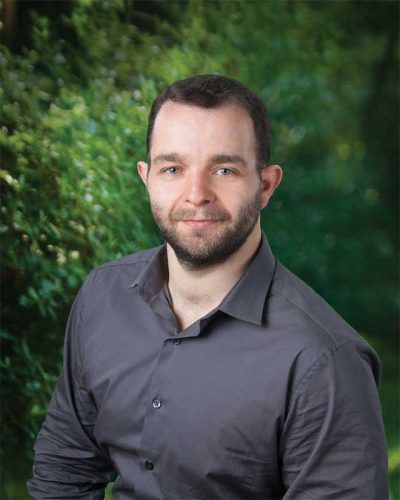 FAILURES
Rachel C. Palisin, PE, LEED AP, and Richard W. Off, AIA
Originally acclaimed for being lightweight, economical, and efficient as compared to traditional stone, terra cotta was a common façade element on many late-19th and early 20th century commercial buildings. Architectural terra cotta consists of molded or extruded clay shells that are fired after an initial air drying. Units may be left plain for a natural stone appearance, or, more often, glazed with neutral stone colors or different effects. Commonly used in transitional steel-frame buildings with projecting decorative elements, most historic terra cotta includes metal anchorage that is critical to its structural stability, providing resistance to gravity loads and overturning. This anchorage typically consists of ferrous hooks, bars, or rods attached to the steel structure or backup masonry. Terra-cotta units were frequently partially filled with mortar or masonry to provide increased restraint and augment structural bearing capacity.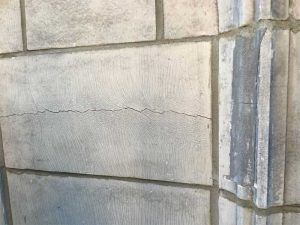 Despite its benefits, terra cotta has inherent characteristics contributing to its typical failures. Like brick masonry, terra cotta irreversibly expands over time. Building systems of the period did not allow for expansion, introducing stresses into units that lead to cracking and spalls, which reduce weather-resistance and integrity. Ceramics are generally durable and long-lasting, but poorly maintained joints and glaze damage make terra cotta susceptible to moisture infiltration, which can accumulate in hollow cavities, cause freeze-thaw damage, corrode anchorage and structure, and lead to further cracking and spalling. These mechanisms result in a progressive cycle of deterioration, eventually causing displacement of the units, a serious safety hazard for building occupants and the public.
While in-situ repairs are possible, they have limited applications. Repaired units will never be as sound or well-performing as the originals, and such repairs typically do not address underlying mechanisms of deterioration. In-situ repairs can include patching spalls, grouting cracks, pinning displaced units, or coating units with failing glazing. Although replacement of existing terra cotta units in-kind is the safest and longest-lasting approach to addressing deterioration, it can be costly and have long lead times, given the limited capacity of restoration terra cotta manufacturers.
In some situations, substitute materials may be viable alternatives to terra cotta replacement and have the advantage of being even more lightweight. However, since the replaced units may behave differently than the surrounding façade, there can be compatibility concerns for select replacement with substitute materials, as well as potential considerations for landmark or historic properties. Still, when in-kind replacement is not feasible, replacement with substitute materials may be a better alternative than patching or pinning, as the new units will generally have a longer service life.
Replacing terra cotta allows for restoration of corroded anchorage with stainless or protected steel and permits repair of damaged backup, but it can be challenging to replace individual pieces in complicated wall assemblies without damaging or removing adjacent units. Given the challenges of piecemeal repairs, terra-cotta components should be considered as a long-term maintenance item with a finite life cycle.
The opinions expressed in Failures are based on the authors' experiences and do not necessarily reflect those of The Construction Specifier or CSI.
Rachel C. Palisin, PE, LEED AP, is senior engineer with Hoffmann Architects, Inc., specializing in structural analysis of the building enclosure. She may be reached via e-mail at r.palisin@hoffarch.com.
Richard W. Off, AIA, is project architect with Hoffmann Architects in New York, where he focuses on the treatment of historic and landmark building exteriors. He may be reached via e-mail at r.off@hoffarch.com.