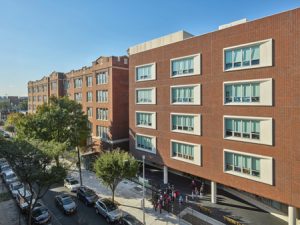 In a Queen's neighborhood in New York City, Murphy Burnham & Buttrick Architects (MBB) completed the expansion and renovation of one of the borough's largest elementary schools. Doubling the size, they created a new building, learning spaces, and other community amenities in the crowded district.
P.S. 19 Marino P. Jeantet School's ground-up, five-story expansion replaces temporary trailer structures with 9012 m2 (97,000 sf) of classrooms, cafeterias, and gymnasium areas. It also houses specialty instruction spaces for art, music, and science, as well as an area for neighborhood programs delivering social and health services.
The new building connects to the school's historic 1923 building with a new shared core, creating a cohesive new space to serve a large student body. Three central circulation hubs with oversized stairs add visual interest to the corridors while moving more than 2000 children throughout the school.
The modern brick façade and large, canted windows complement the scale, massing, and fenestration of the original school structure and reflect the modulation of classroom layouts and uses within. A wide, tree-lined sidewalk adds greenery to the streetscape and forms a transitional buffer to the schoolyard. At the building's northeast corner, acoustical baffle walls and acoustically treated, high-performance glass mitigate noise from the adjacent elevated train line, located feet's away.
Sited to maximize the use of daylight throughout the year, the addition emphasizes flexibility and efficient use of space. Its large gymnasium elevated to the second floor, frees up the ground level for an ample entry and two cafeterias. Inside, color is used as a wayfinding element, making it easy for students to find their way to classes and exit doors.
"Our design for P.S. 19 offers a humanistic approach to the challenges of expanding a large school in a dense city environment," says MBB principal Jeffrey Murphy, FAIA. "By embracing the neighborhood context and opening up this facility to its urban surroundings, perceived site constraints become assets and opportunities for connection, enhancing the quality of life for both students and the wider community."