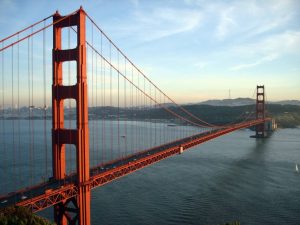 The U.S. Department of Transportation's Federal Highway Administration (FHWA) recently announced a grant of $400 million for California to seismically upgrade the Golden Gate Bridge, and ease the traffic congestion on it.
The project will replace, retrofit, and install critical structural elements on the bridge to increase resiliency against earthquakes. The improvements are also vital in order to serve an estimated traffic of 37 million vehicles crossing the bridge per year, including 555,000 freight trucks, and waterborne commerce through the Golden Gate Strait, which is connected to the Port of Oakland.
The improvements will ensure the structural integrity of a vital transportation link, allowing people to move and freight along the California Coast.
The project will also address congestion and safety issues for communities in northern California—structural retrofits will ensure the Golden Gate Bridge can continue to carry critical freight and commuter traffic, preventing delays are currently raising costs for American families. This grant is part of historic investments made possible by the Biden-Harris Administration's Bipartisan Infrastructure Law, which will help repair or rebuild ten of the most economically significant bridges in the country, along with thousands of bridges across the country.
This grant comes under the Large Bridge Project Grants, which falls within the Bridge Investment Program (BIP). As part of the program, grants are available for bridges with total eligible project costs of more than $100 million, with minimum grant awards of $50 million, and maximum grant awards of 50 percent of the total eligible project costs. As part of the selection process for this first round of grants, priority consideration was given to projects which are ready to proceed to construction, as well as those requiring pre-construction funding to benefit from a multi-year grant agreement.
"Safe, modern bridges ensure that first responders can get to calls more quickly, shipments reach businesses on time, and drivers can get to where they need to go," says Pete Buttigieg, U.S. Transportation Secretary. "The Biden-Harris Administration is proud to award this historic funding to modernize large bridges that are not only pillars of our economy, but also iconic symbols of their states' past and future."