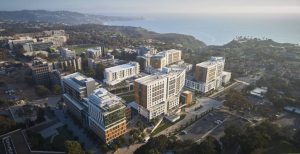 The University of California, San Diego's North Torrey Pines Living and Learning Neighborhood (NTPLLN) has received awards for its holistic, evidence-based architecture, and interior design strategies to enhance social, mental, and physical well-being.
The results of its outcome-focused design can be seen through  research findings showing lowered depression and increased satisfaction among students. Fast Company's 2022 Innovation by Design Awards; The American Society of Interior Designers (ASID)'s 2022 Outcome of Design Award & Optimizer; and The Center for Health Design's 2022 Platinum Recognition, Evidence Based Design Touchstone Award, are some of the most recent honors the project received.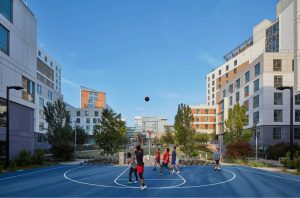 The design-build project team members for the 148,644-m2 (1.6 million-sf) community included HKS, Clark Construction, Safdie Rabines Architects and OJB Landscape Architecture. HKS also worked with UC San Diego and the Center for Advanced Design Research (CADRE) to form a research coalition. Coalition members conducted surveys, visioning sessions, and behavior mapping exercises to determine how the project could reflect the diverse cultures and habits of students, faculty, staff, and area residents and translate those ideas into the design.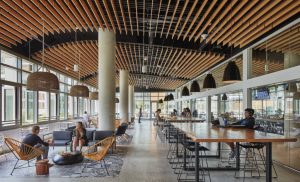 Every space at NTPLLN is designed with an understanding that college years are formative for building healthy habits. The neighborhood incorporates holistic, evidence-based architecture, and interior design strategies to enhance social, mental, and physical well-being.
Modeled on the concept of "campus within a campus" NTPLLN's residential buildings provide diverse housing options, organized around indoor and outdoor common areas fostering social interactions, collaboration, and restorative connections to nature. The campus plan supports active mobility, and the dining experience makes it easy for students to embrace healthier eating habits. A rooftop community garden provides students with fresh vegetables and herbs, and community kitchens offer places for cooking healthy meals.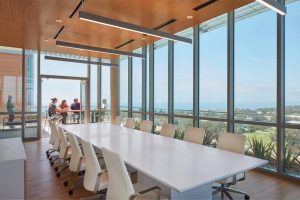 When NTPLLN opened during the height of the COVID-19 pandemic in the 2020-2021 school year, researchers and student fellows gathered environmental and well-being metrics. They observed increases in students' satisfaction with food, mobility, and residential and social spaces and an 8.2 percent reduction in self-reported depression scores even amid unprecedented circumstances for isolation and health concerns during the pandemic. The study also found a 27.96 percent increase in student satisfaction with residential spaces.
The neighborhood is targeting LEED Platinum certification for the entire project, with a reliance on conservation strategies such as high-efficiency fixtures and appliances significantly reducing potable water use and stormwater runoff being managed on-site through rainfall-capturing and treating bioswales.
All buildings are designed for passive survivability with natural ventilation systems and operable windows to help maintain indoor thermal comfort in the face of a more extreme climate future. Other energy-conscious design features include photovoltaic arrays powering a net-zero parking structure and an anaerobic digester processing food waste into electricity and fertilizer. On-going data collection efforts show the project exceeds operational targets with industry-leading metrics, including a measured 38 energy use intensity (EUI).