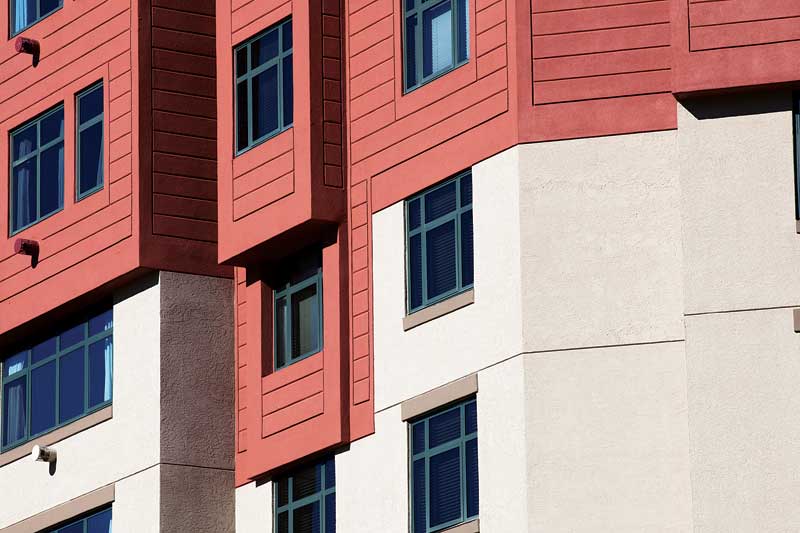 Properties to look for in coatings
While every job is different and coatings vary based on the type of cladding and other variables (e.g. regional climate), the right product can offer protection against UV degradation, heat, salt, wind, humidity, dirt, and rain. It should allow a substrate to 'breathe'—that is, be permeable and enable water vapor to pass through the envelope as it seeks equilibrium between exterior and interior humidity levels. A coating with 'permeance' can help resist blisters and reduce the odds of mold development in the wall cavity caused by moisture from vapor migration.
A coating system must also repel water externally, resist cracking, and help prevent corrosion in steel embedded in the substrate, while remaining safe for workers and the environment. Finally, ideal coatings should resist fading and also be easy to clean and maintain to help sustain the life cycle of the structure and thus reduce maintenance costs.
Architects and builders specifying a job should seek out and compare coatings with the tested characteristics listed in the following paragraphs.
Weatherproof
There are coating products that are resistant to wind-driven rain whose absorption of water on vertical surfaces helps deter moisture intrusion and its ill effects. ASTM 6904, Standard Practice for Resistance to Wind-driven Rain for Exterior Coatings Applied on Masonry, measures the capacity of high-build coatings to provide an impermeable barrier to wind-driven rain due to the absence of voids such as pinhole entryways for water to enter a building. Test results should be available on product data sheets to allow for comparing applications.
Vapor permeability
As mentioned, vapor permeability allows a structure to 'breathe,' and these permeable coatings are less likely to blister due to water vapor movement. They help mitigate the effects of condensation that can lead to unhealthy interior environments. Permeance is a coating property that permits or restricts movement of water vapor. ASTM E96, Standard Test Methods for Water Vapor Transmission of Materials, and ASTM E1653, Standard Guide for Specifying Dynamic Characteristics of Optical Radiation Transmitting Fiber Waveguides, should be reviewed for recommendations on evaluating water vapor permeance when comparing coating systems.
Crack-bridging capability
One should look for elongation properties that not only stretch, but also recover so the coating remains intact over cracks caused by thermal changes while also effectively camouflaging surface imperfections. ASTM D412, Standard Test Methods for Vulcanized Rubber and Thermoplastic Elastomers−Tension, or ASTM D2370, Standard Test Method for Tensile Properties of Organic Coatings, measure elongation, crack-bridging, and tensile strength, can be compared when testing parameters are known.
Elastomeric coatings, or what the industry refers to as 'high-build' products, can resist wind-driven rain and the absorption of water on vertical surfaces. However, it is important to point out coatings are not a cure for structural defects that can lead to moisture intrusion. Possible defects need to be assessed and corrected before any coating application.
Self-cleaning
Technological advances in the coating industry have been formidable in recent years, yielding a new landscape of products with remarkable qualities. Some of these high-tech coatings can create a durable surface that both beads water and sheds dirt, helping keep walls clean and dry to extend a building's life cycle and aesthetics.