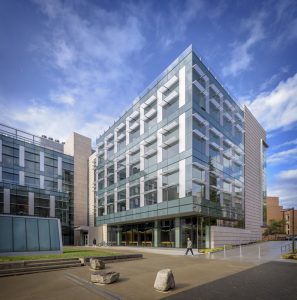 The Engineering and Sciences Building (NanoES) at the University of Washington (UW) relies on custom-engineered products to provide modern performance and visual continuity with the adjacent Molecular Engineering and Sciences Building (MolES).
The $53-million NanoES fulfills the second phase of a 15,608-m2 (168,000-sf) complex located at the center of the UW Seattle-based campus.
The Seattle offices of Zimmer Gunsul Frasca Architects LLP (ZGF) designed the MolES building, and sought to achieve the same aesthetic for the NanoES building. However, new, higher performance requirements in local building and energy codes meant upgraded curtain wall and window systems were needed for the NanoES building.
The NanoES building features four stories above grade and one story below. The second through fourth floors of the NanoES Building are programmed research laboratory spaces. Two active learning classrooms and those classrooms' supporting breakout spaces comprise the first floor of the NanoES building. Also on the first floor is a shared, informal learning center that students can use both before and after classroom sessions.
Transparency, access to daylight, and openness were high priorities for the project team. Daylight flows deep into the building's interior as its laboratories and offices are separated with glass walls and doors that also maintain a visual connection between these spaces.
A four-sided structurally glazed unitized curtain wall system was selected for the project. The units were built one lite wide by one floor tall, with interlocking vertical mullions that aligned with the adjacent rain screen's stone façade, thus creating a true continuous thermal envelope. The preassembled units made the overall system easy to install on the jobsite with an extremely quick envelope enclosure.
The curtain wall features insulating, thermal, polyamide strut to separate the inside and outside aluminum framing members, which reduces the amount of heat transfer, therefore helping save energy and increase occupant comfort.
Further enhancing energy efficiency, occupant comfort and daylighting design principles, both the windows and curtainwall lites incorporate low-emissivity (low-e), argon-filled, insulating glass. The low-e, interior surface coating works by reflecting indoor heat back into the room and improving thermal efficiency.
Integrated within the curtainwall are zero sightline, project-out awning windows with both manual and motorized operators. In the offices, the windows are programmed to automatically open at night to provide natural ventilation and reduce energy load demands on the HVAC system.
The curtain wall, window, and entrance systems' metal framing members are protected with a two-coat mica coating. The 70 percent polyvinylidene fluoride (PVDF) resin-based liquid paint meets the American Architectural Manufacturers Association's (AAMA) 2605, Voluntary Specification, Performance Requirements and Test Procedures for Superior Performing Organic Coatings on Aluminum Extrusions and Panels (with Coil Coating Appendix) industry standard.
Elaborating on this success in the Daily Journal of Commerce, ZGF's associate partner Nicole Cooper, AIA, concluded, "The strong partnership between UW and the design team, as well as a commitment to sustainability, brings the Molecular Engineering and Sciences Building and the Nano Engineering and Sciences Building together to create one high-performance building that fosters a collaborative research environment for years to come."