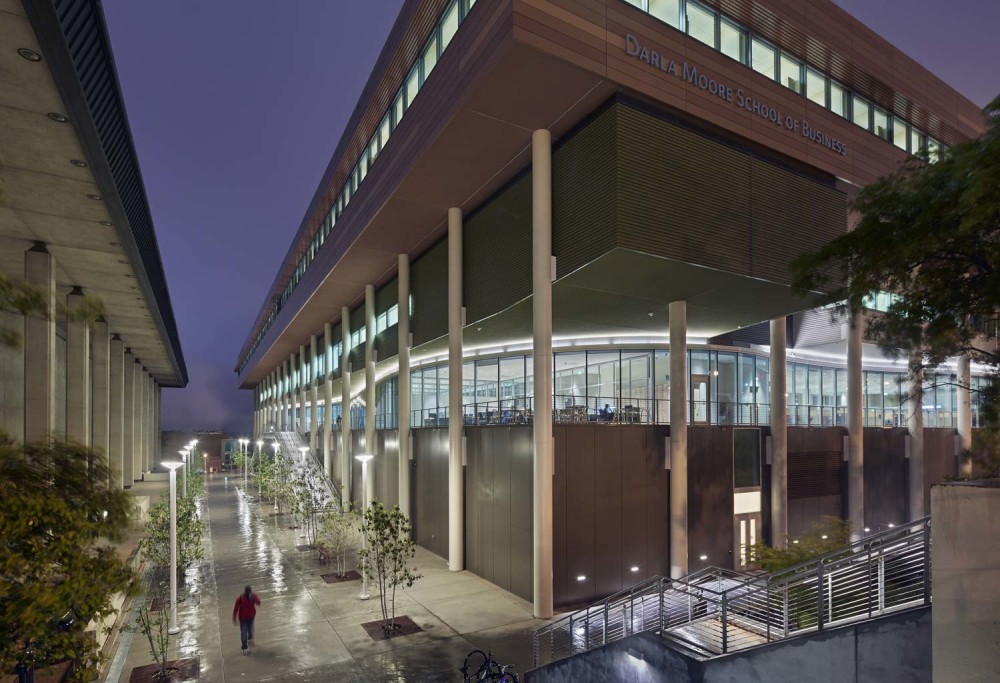 Creating a net-zero-energy, higher-education facility was at the heart of the design for the University of South Carolina's new Darla Moore School of Business.
Designed to achieve U.S. Green Building Council's (USGBC's) LEED Platinum certification, the project was initiated after the U.S. Department of Energy (DOE) hand-selected the university to partner with Lawrence Berkeley National Laboratory (LBNL) as part of its net-zero-energy-focused Commercial Building Initiative (CBI).
Mechanical and electrical systems were two of the main considerations that led the project's design. Specifically, the design team chose HVAC systems engineered with under-floor air distribution (UFAD), active chilled beams, and variable air volume (VAV) systems—all designed to reduce the amount of horsepower needed to move air for heating and cooling.
Further, a separate HVAC system was incorporated for use in the building's 500-seat lecture and performance hall to achieve quiet air-conditioning without impacting the room's acoustics. The firm turned to an acoustics consultant to generate desired reverberation characteristics, which entailed monitoring duct velocities.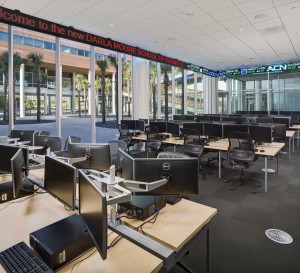 The building also features the following sustainable design elements:
the use of green turf for heat reduction;
reusable waste management systems;
a state-of-the-art hybrid HVAC system; and
natural daylighting.
Rainwater harvesting for irrigation and building toilet use also contribute to the facility's overall water-use reduction of more than 50 percent.
"Our team implemented smart design solutions that make the new Darla Moore School of Business a highly sustainable, functional, and visually dynamic facility for the university's students and faculty," said Keith Branham, PE, LEED AP, the senior vice-president and director of engineering for Stevens & Wilkinson, S.C., who served as lead for the project.
"We are thrilled because we know each of the methods and technologies developed during the design of this building will guide efforts for all new facilities located or associated with the University of South Carolina moving forward," he explained.
To measure the facility's energy use, a monitoring system tracks interior and exterior lighting, heating and cooling, fan motors, elevators, kitchen equipment, and building-plug loads.