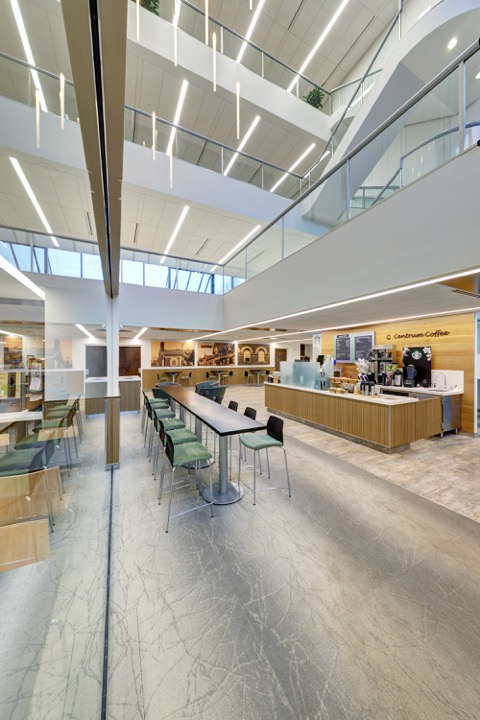 When it came time to redesign Princeton's 101 Carnegie Center offices, Joshua Zinder Architecture + Design (JZA+D) wanted to create an 'activated' social and professional environment to promote activity and interaction.
"We've been very excited about repositioning 101 Carnegie Center," says Joshua Zinder, the firm's principal and founder. "It's an opportunity to showcase our approach to effective transformations of underperforming office properties. The redesign delivers a work setting that offers urban conveniences in a suburban location."
Located on the US Route 1 corporate corridor in New Jersey (about 4.8 km [3 mi] from Princeton University), the 227-ha (560-acre) Carnegie Center campus is renowned for its manicured lawns and sprawling green spaces. JZA+D, along with developer Boston Properties, aimed to leverage the site's existing attributes to maximize the value of the building, providing urban amenities in a suburban space.
101 Carnegie underwent phased renovations over two years, creating a functional space that supports workplace needs and preferences of future employees. Offering a late-night coffee kiosk and state-of-the-art fitness facilities, as well as ample parking and open-air cafés, JZA+D effectively created a 'pocket of urbanity.'
"Millennials and post-millennials will soon dominate the workforce," says Zinder. "Boston Properties is mindful of tenants' need to appeal to those demographics to stay competitive. Younger people approach their work-lives differently than previous generations, and they also tend to favor the experience of living in an urban setting."
In addition to the amenities, JZA+D renovated the 11,148-m2 (120,000-sf) building, creating a space that is both energizing and elegant. To reinvent Carnegie Center's four-story lobby atrium, designers emphasized the area's height, using vertical design elements and linear patterns, along with bright finishes and cherry wood accents. JZA+D lit the space using natural light, as well as custom-made ornamental pendants and linear light-emitting diodes (LEDs).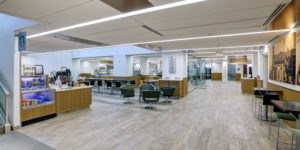 Carnegie Center's lower-level café and lounge, designed as a casual meeting area, features contemporary and comfortable furniture. The space includes options for coffee and dining during off-hours, accommodating flexible work schedules.
"The repositioning of 101 Carnegie Center obviously doesn't move it out of its suburban office park location," says Zinder, "but it does significantly increase its appeal as a work setting, allowing tenants to better compete for prospective employees against companies located downtown."