Fundamental differences in ASTM E84 and E108 classifications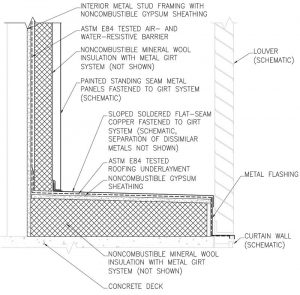 The class rating per ASTM E84 testing is not the same as the class rating per ASTM E108 testing because the test methods are different, the flame spread results from the two tests are different, and ASTM E108 does not provide smoke developed results.
ASTM E84 (Figure 1, page 27) is a "fire-test-response standard for the comparative surface burning behavior of building materials [that] is applicable to exposed surfaces such as walls and ceilings." It requires subjecting an approximate 7.3 m (24 ft) long by 610 mm (24 in.) wide specimen positioned face down in a chamber (ceiling position) to an ignition source at one end of the specimen for 10 minutes. The flame spread distance and smoke density are measured over time, and those measurements are used to determine the indexes. The indexes are based on comparative values to the surface flame spread and smoke density measurements with that of select grade red oak and fiber-cement board surfaces under the same fire exposure conditions.
ASTM E108 is a "fire-test-response standard that covers the measurement of the relative fire characteristics of roof coverings exposed to simulated fire sources originating outside the building." It requires subjecting a roofing membrane to a series of fire exposure tests, including intermediate flame exposure, spread of flame, burning brand, and flying brand. The test parameters are adjusted based on the desired classification (A, B, and C). The ASTM E108 spread of flame test is like the ASTM E84 test, but the apparatus, specimen size, and required observations are different. ASTM E108 does not include a test to measure smoke density. Therefore, it does not provide fire response properties that can be used to determine flame spread or smoke developed indexes for comparison to ASTM E84 results.
Design considerations
When waterproofing is required within an interior space, a designer must determine the required or desired waterproofing performance (durability and reliability) and identify reasonable waterproofing solutions to achieve the performance.
The authors recommend starting the design process by considering waterproofing products that are intended for interior use because the manufacturers will have performed the appropriate test standards and report the required fire response properties or considering noncombustible exterior-grade waterproofing as defined by the applicable code (IBC Section 703.3). These are the simplest fire- and life-safety code compliance paths. However, these solutions will limit design options and may reduce waterproofing performance. For example, noncombustible waterproofing materials often lack the physical properties (flexibility, elongation, fastener sealability, etc.) that make combustible membranes an attractive choice for waterproofing (see the following case study).
A designer should only consider using exterior-grade waterproofing within interior space if the above-mentioned options will not meet performance expectations. In the absence of interior fire response property data from the manufacturer, a more complex analysis is required, which takes more time and effort. The analysis often requires an assessment by a qualified fire protection engineer and engagement with the authority having jurisdiction to determine if the proposed design is no less safe than what is permitted by code.
The analysis must often take into consideration local code requirements, construction type, occupancy and use of the space, occupant load, egress design, sprinkler and alarm system design, waterproofing assembly design, data from similar materials and assemblies, and other pertinent information. The designer may conclude that it does not have adequate data to perform the analysis or that the design is less safe than what is permitted by code, or the authority having jurisdiction may not agree with the analysis and not approve use of the exterior-grade waterproofing. Potential analysis approaches are beyond the scope of this article.
Designers may consider water-resistive barrier (WRB) products intended for installation within above-grade vertical wall assemblies (concealed).
Manufacturers of these products typically include ASTM E84 test data in response to code requirements for NFPA 285 assembly testing. However, these products may not be suitable for the intended interior use due to ultraviolet (UV) exposure, durability and reliability in the proposed assembly, and other reasons.