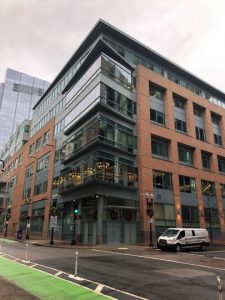 The VA Boston Healthcare System Research Service earned the Green Building Initiative's 2021 Green Globes Project of the Year, thanks to its Four Green Globes-rated sustainable design philosophy.
This award recognizes excellence in sustainability, health and wellness, and resilience in the built environment.
The VA Boston Healthcare System, located in Boston, Massachusetts, has one of the largest and most active research programs in the Department of Veterans Affairs. The space was designed to use as little energy and water as possible while mitigating the appropriate needs for ventilation, lighting, controllability of systems, and optimized acoustics. The project earned full applicable credit in three of the six Environmental Assessment Areas, including Project Management, Water, and Emissions and Effluents.
"We are thrilled to be selected as the 2021 Green Globes Project of the Year," said Blake Jackson, project team leader. "This was everyone's first Green Globes project. The format of the rating system, with clear strategies and objectives, helped us align the talent of the team to the design, construction, and operational goals of the owner to achieve a healthy, sustainable workplace, as well as certification. The fact that we achieved the highest possible rating, on time and on budget, inspires us to keep prioritizing sustainability on all future projects."
The Green Building Initiative also recognized the Green Globes Project of the Year runner-up, the Incyte Administrative Headquarters in Wilmington, Delaware. This four-story, 25,595 m2 (275,500 sf) facility was the first project to certify under Green Globes for Existing Buildings 2021, earning a Three Green Globes rating. The biopharmaceutical company also prioritizes environmental, social, and governance (ESG) management, earning 71 percent of the total applicable points in the Environmental Assessment Area new to Green Globes in 2021.
The Young Living Global Headquarters in Lehi, Utah, and Artis Senior Living of Wilmette in Wilmette, Ilinois, were recognized as 2021 Green Globes Project of the Year honorable mentions, each having earned Two Green Globes ratings under Green Globes for New Construction.