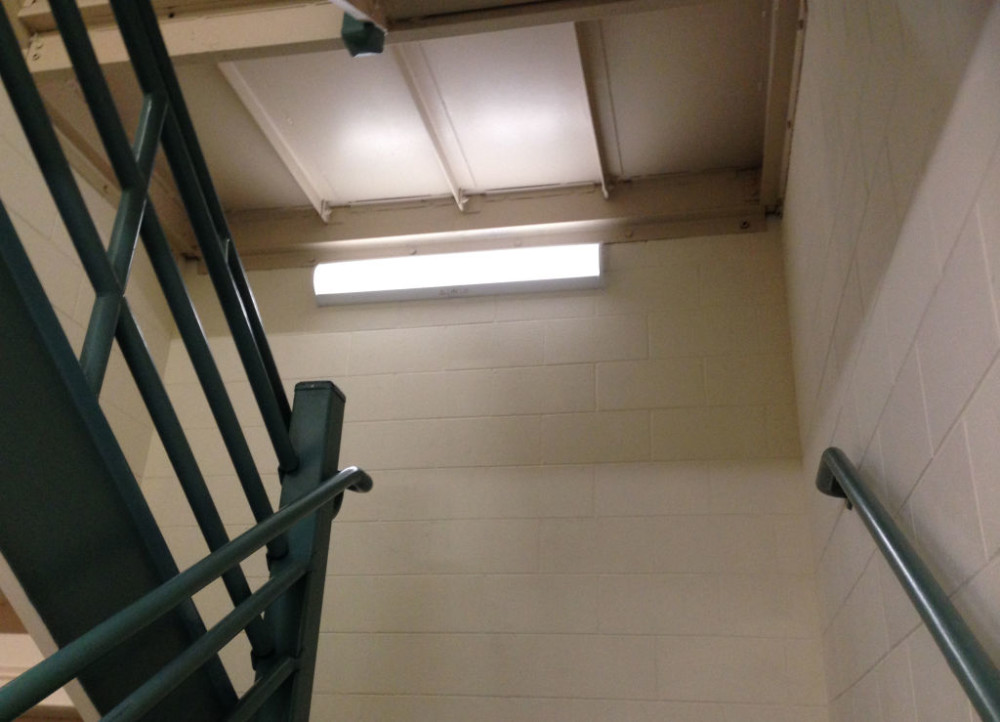 by Jeffrey Goldstein
A retrofit using motion-controlled bi-level, light-emitting diode (LED) technology has helped reduce energy consumption and maintenance while improving illumination at the West Palm Beach Veterans Affairs Medical Center (VAMC).
The LED luminaires employed in the VAMC renovation have the potential to save nearly 90 percent on energy costs, while also creating a safe and well-lit environment.
The VAMC provides primary and secondary level healthcare to eligible veterans in a seven-county area along Florida's Treasure Coast. With 2003 as a baseline, all U.S. federal facilities were tasked with reducing energy intensity by three percent annually, or by 30 percent by the end of this year. The West Palm Beach VAMC has been incorporating numerous projects to reduce energy consumption and meet these goals, and the lighting retrofit is the latest in a series of improvements.
The original 1-32W fixtures in staircases were on at full 38W output year-round to provide emergency egress, even though staircases typically have low-occupancy patterns. For unoccupied times, the luminaires offer multiple low-light levels and time-delay options, which can be adjusted by the installer. Replacing the existing fixtures with these units on five floors allowed the VAMC to reduce energy consumption because the luminaires were set to standby light levels of 8W illumination output when staircases were unoccupied. At the same time, the ultra-sonic motion sensor switches on to full illumination output of 24W whenever someone enters the space.
The original fixtures sent the light primarily downward, while the new units have a nearly 180-degree distribution for a more uniform, brighter illumination. They are also rated for over 50,000 hours and offer long, economical operation, not only reducing energy costs, but also requiring little maintenance.
At VAMC, a total of 270 of the 1219-mm (48-in.) long units in the standard 4000K color option were wall- and ceiling-mounted on every staircase landing. The installation took about two weeks. To ensure a smooth and easy process, the manufacturer supplied detailed instructions to the installer on how and where to install each fixture.