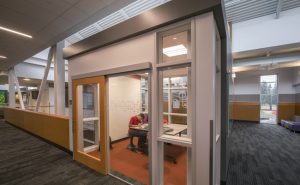 The Northshore School District, Bothell, Washington, needed to expand to include a new North Creek High School (NCHS) on a 25-ha (61-acre) site. The district partnered with Dykeman Architects to turn their vision of a flexible, innovative learning center for 1600 students into a reality. Single leaf sliding doors support the collaborative culture at the school, provide space savings, daylighting, and sound attenuation.
Dykeman's solution included eight 'collaboration cubes' to foster the district's science, technology, engineering, and math (STEM) success. Each of these cubes are located in the expanded core running down the center of two academic buildings. In these synergistic spaces, students can learn together in small groups, para-educators can work one-on-one with students, or teachers can meet by department.
The design team at Dykeman specified single leaf sliding doors for each of the cubes to open up the small hallway rooms for team learning. Two cubes are located on each floor, and the cubes' interior sliding doors easily glide aside to visually enlarge the space. By expanding beyond the four walls of the room, the doors enhance the free-flowing nature of the cubes.
Single leaf sliding doors are also utilized in four teacher planning rooms. The sliding capability allows "for an open-door policy, where students feel comfortable approaching," said Michael Stevens, NCHS project architect at Dykeman. "The result is a more open, approachable space."
Approachable design further evokes a sense of camaraderie for educators using the planning rooms. "I love that there's a teacher planning room on every floor, which is also conducive to teachers communicating more and working together, sharing their ideas even if perhaps they don't work in the same department," observed Natalie Pullen, special education teacher on special assignment (TOSA).
The sliding doors also save space. By eliminating a door's swing path, there is more room for students and teachers to spread out in a comfortable setting.
The sliding doors come in wood stile with glass infill panels for daylighting purposes. The aesthetic functions as an extension of the classrooms, all of which feature a full glass wall. The glazing captures the ample natural light that filters through the high school, increasing energy efficiency, while paving the way for working together.
The sliding doors also enable controlled environments. Teachers and counselors can eliminate distractions by closing the sliding doors. With a soft-closing dampening system, acoustic jamb gaskets and drop-down bottom seal features, it is possible to seal all four sides of a sliding door for optimum privacy. These features enable sliding doors to be on par with swing doors in their sound transmission class (STC), providing noise isolation class (NIC) values up to 39.