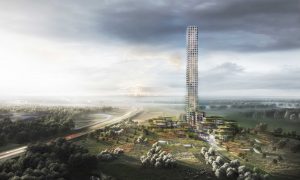 International fashion company Bestseller's ambitious plan of building Western Europe's tallest skyscraper was recently approved by local officials. Projected to be more than 200 m (656 ft) tall, this high-rise is the most distinctive element of the Tower & Village project in Brande, a small town in the middle of mainland Denmark.
With this project, Bestseller is rethinking the classic idea of a headquarters and creating a long-term plan for the company's presence in Brande.
The plan is to create an environment where shopping becomes an integrated part of a greater experience with office environments, public activities, and education. The area will be home to nearly 30 stores, as well as hotels, schools, and multiple Bestseller offices.
The idea is also to give something back to the town and its denizens by establishing nature walks, playgrounds, or similar initiatives.
"The overall building project is thought as an investment in Brande, and the planned high-rise building will function as an icon for the new expansion. It will be a landmark that places Brande on the map, but it will also function as an architectural attraction benefitting hotel guests, students, and other users of the building," says project manager Anders Krogh Vogdrup. "The plan is born out of the passion and interest for architecture and a vision of creating a unique building that matches the unique setup of a rethought headquarter."
Bestseller is aiming to make the Tower & Village project sustainable, according to the DGNB sustainability certification system. DGNB is based on the concept of holistic sustainability, placing equal emphasis on the environment, people, and commercial viability.
The original plans for the Tower & Village project were first presented in 2017, but project start and end dates are yet to be determined. Danish firm Dorte Mandrup is designing this project.
"The city council's approval is obviously essential, but we still have a lot of homework to do and much to consider before a project like this can be brought to life. We still have years ahead of us before a potential start date," says Vogdrup.