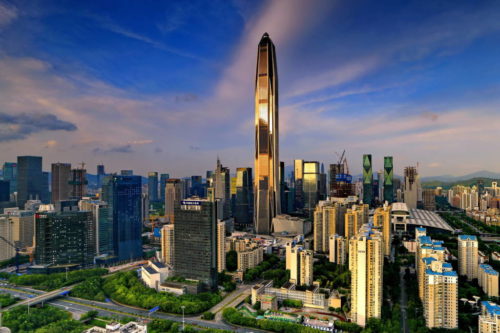 By the standards of the Council on Tall Buildings and Urban Habitat (CTBUH), the Ping An Finance Center in China has been declared complete. Set prominently in the city of Shenzhen's Futian District, the building was designed by Kohn Pedersen Fox Associates and developed by Ping An Finance Center Construction and Development.
At 599 m (1965 ft) high, the center is the city's tallest building, as well as being the second-tallest in China and—after the Burj Khalifa, Shanghai Tower, and Makkah Royal Clock Tower—fourth-tallest in the world. These are not its only accolades—the building also stands up to Shenzhen's salty coastal climate with the world's largest stainless-steel façade at 1.5 million kg (1700 tons) of corrosion-resistant 316L stainless steel.
The structure is also resistant to baseline wind loads, thanks to a taut and streamlined shape that reduces such loads by 35 percent while enhancing visual appeal. The building's tapered, pyramid-shaped top adds to this, giving the building a prismatic appearance overall, as do the eight composite columns extruding beyond the building envelope.
Ping An Finance Center also holds business appeal—it contains office space for not only the owners (Ping An Life Insurance Company of China), but also other tenants, while its base includes a public atrium with stores, restaurants, and transit connections to areas within the city, region, and country.