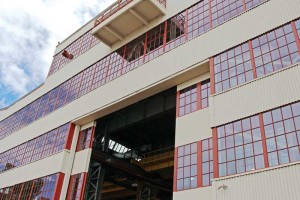 Fully welded construction of solid, hot-rolled steel frame profiles is also a critical feature. Fusion welding uses nearly two tons of pressure to join frames for seamless, waterproof corners, and unsurpassed strength. If muntin bars (i.e. true divided lites) are required, face welding will also dramatically reduce visible seams in the exposed surfaces where problems can begin.
Properly designed solid, hot-rolled steel windows and doors can also offer good thermal performance when glazed with insulated glass. Narrow sightlines in conjunction with insulated glass units can result in a product with acceptable National Fenestration Rating Council (NFRC) values for most regions throughout the United States.
Other product advancements include materials that combine the time-tested solid, hot-rolled system with ancillary fiber-reinforced polymer (FRP) components to increase thermal protection. Such thermally resistant FRP isolators are structurally and mechanically bonded to the solid steel window and door profiles to create a monolithic system. Compared to cold-rolled or hybrid systems, these profiles have a solid, hot-rolled back-bone—a product that has been perfected over centuries.
This enhanced thermal efficiency is achieved while still maintaining the intrinsic strengths of solid, hot-rolled steel. In other words, the window frames are not split to create a thermal break.
Some manufacturers, on the other hand, may create thermal breaks in metal windows by splitting frames into exterior and interior metal sections before reconnecting them with a polymer material. This method could significantly undermine the superior structural strength of a solid, hot-rolled, steel profile. To combat the reduction in strength, the sections may become larger, or even fail to meet the expected lifecycles of solid systems. Many of these systems are newer to the industry, so only time-testing will address these concerns.
For traditional, solid, hot-rolled steel framing profiles that remain completely intact, the strength of the full depth of the window profile is increased. Testing for NFRC 100, Procedure for Determining Fenestration Product U-Factors, NFRC 200, Procedure for Determining Fenestration Product Solar Heat Gain Coefficient and Visible Transmittance at Normal Incidence, NFRC 400, Procedure for Determining Fenestration Product Air Leakage, and NFRC 500, Procedure for Determining Fenestration Product Condensation Resistance Values justifies the decision not to sacrifice the other historically desirable and lifecycle performance attributes of hot-rolled, solid steel windows. NFRC, ensures consistent third-party testing criteria, with public access to product testing results.
This new thermal technology achieved impressive results from the NFRC: a 0.170 U-factor and a condensation resistance (CR) rating of 49 (fixed unit). Thermal performance differs depending upon function, glass makeup, and other variables, but it illustrates some of the many features of this system.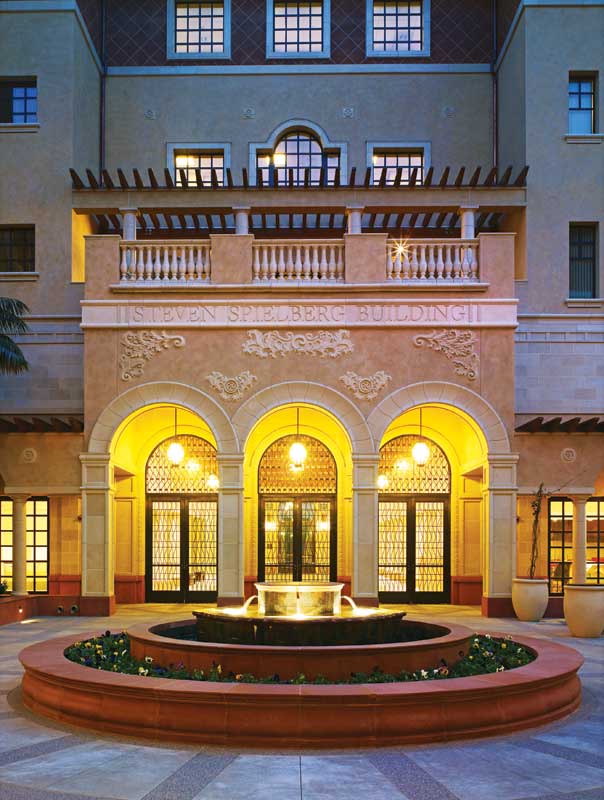 Case study example
The strength of hot-rolled, solid steel is also getting attention for other reasons. A case in point is at the Bal Harbour Shops in Miami Beach—one of the most exclusive luxury shopping destinations in the world—is an example of hot-rolled, solid steel's usefulness, as the shops are subject to possible hurricane conditions.
Among the shops, a restaurant, The Grill at Bal Harbour, is situated atop the open-air mall's main entrance and features custom, handcrafted, solid, hot-rolled steel windows for both aesthetic and performance reasons.
Steel profile windows were installed to meet the demanding Miami-Dade county impact and wind loading hurricane standards. Rakesh Patel, senior project architect of the restaurant, says the solid, hot-rolled steel windows greatly contribute to the "uninterrupted safety and comfort of our customers in the event of a hurricane."
Patel also points to two noteworthy design and engineering achievements in the restaurant.
A 4-m (13-ft) wide and 3.6-m (12-ft) high laminated curved on-plane glass section and hot-rolled steel framing pushed the boundaries of curved glass. The curved glass was made in one of the few autoclaves in the world large enough to accommodate a single piece of glass of such magnitude.
Additionally, the strength of hot-rolled solid steel frames allowed a 90-degree butt-glazed corner to complement the overall open-air design of the restaurant's interior.
Finding the right partner
For any steel window project, one should research the manufacturer and ask questions, including:

Is the steel solid, hot-rolled, light gauge cold-rolled (i.e. hollow), or a hybrid?

Are profiles purpose-made, specifically designed for strength/loading, glass warranty, or integral-groove weatherstripping?

Have the frame corners been fully fusion-welded (i.e. seamless)?

Are muntins and intersections face-welded or only back-welded?

Are products offered with validation of code compliance or sufficient strength certifications for compliance to wind loads?

Are patina/artistic finishes backed by a warranty?

What are some of the design options available from the manufacturer?

Which frame profiles, shapes, and sizes are available?

What are the hardware options (e.g. hinges, locks, handles, kick plates, trim sets)?

Are the products evaluated for wind-load and overall code compliance or simply quoted "as shown" on architectural drawings?

Are products domestically third-party tested and certified for minimum performance criteria required within the International Building Code (IBC) or any other applicable building codes pertinent to a given project?
The importance of code compliance and stress testing cannot be emphasized enough. A steel window manufacturer should transparently provide detailed information about its testing results and certifications, including:

hurricane-impact resistance;

air infiltration;

water penetration;

structural integrity;

forced entry resistance;

thermal performance;

paint finish performance;

fire resistance; and

bullet resistance.
One should request detailed test results from industry organizations such as ASTM and NFRC, among others. Additional information to further educate specifiers and clients is also available from the Steel Window Institute (SWI).
While all products have a place in the construction market, one must ask the right questions to know what one is buying. All products are different and just because it is marketed as 'steel' does not mean it is the product one might expect.
Brian Whalen is vice president/sales for Hope's Windows. He has worked in a number of capacities at the company, including manufacturing and engineering for more than 
20 years. He also actively participates in several ASTM committees specific to windows and doors. He can be reached via e-mail at bwhalen@hopeswindows.com.