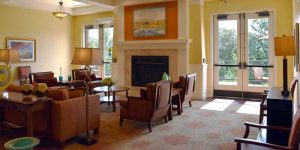 by Kevin Tish, CDT, AOC, CFDAI, DHC, DHT
The Americans with Disabilities Act (ADA) is a law in the United States designed to make public spaces more accessible to people with disabilities. It requires buildings and other places used by the public to be accessible for people with physical, sensory, or mental impairments. This means areas like parking lots, bathrooms, doorways, and water fountains must adhere to certain standards to be ADA-compliant.
The standards discussed in this article are based on the national standards; however, local codes may have variances. It is important to check with local building code officials for the requirements in effect in different jurisdictions.
There are several key considerations for door hardware to comply with ADA requirements such as the approach to the door, the opening clearance, thresholds, surfaces, operating hardware, closing speed, opening force, and exit door signage.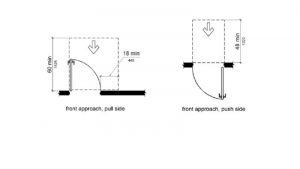 The History of ADA
The ADA was signed into law by U.S. President George H.W. Bush in 1990. It was created to ensure people with disabilities can access public accommodations, state and local government services (including schools), transportation, and telecommunications.
Between 1990 and 1999, the act was governed by the ADA. There were no standards or explanatory materials to clarify the ADA law, but this changed when accessibility was addressed by the International Code Council (ICC), beginning with the International Building Code (IBC) published in 2000 under Chapter 11, Accessibility.
Today, there are two national standards for accessibility used to ensure compliance with ADA: The Americans with Disability Act Accessibility Guidelines (ADAAG); and ICC A117.1, Standard for Accessibility and Usable Buildings and Facilities. This article will focus on ADAAG, under which physical disabilities affecting openings include:
• inability to walk or difficulty walking;
• blindness and visual impairments;
• deafness and hearing impairments;
• reaching and manipulating disabilities; and
• difficulty interpreting and/or reacting to sensory information.
Accessible Door Design and Hardware: An Overview
Door hardware is one of the many components inside a building that must meet ADA standards. The main priority for building compliance is to provide measures that will enable individuals with disabilities, including employees, to physically enter a facility, and to provide access to areas where goods and services are available to the public. This includes lobbies and restrooms. For building owners, this includes removing barriers, such as plants, desks, and walls that could easily hinder accessibility.
Section 404 concentrates on doors, doorways, and gates that are part of an accessible route. There are two door designs: swinging and sliding. Each has its own specifications for width, height, length, and hardware selected (i.e. knobs versus levers), open space on the sides of doors to accommodate wheelchairs, or other mobility devices, etc.