Door Thresholds
To meet accessibility needs, door thresholds can only be a maximum 13 mm (0.5 in.) rise. This measurement is calculated from the finished floor to the highest point on the threshold.
Two common examples of thresholds are saddle and panic. The panic threshold has an additional weatherstrip at the bottom of the door to help seal it. When using panic type thresholds, it is important to remember the total rise (highest point of threshold) is only 13 mm (see Figure 9). Most door undercuts are 16 mm (0.625 in.). Therefore, if one is using panic thresholds at exterior doors, the special undercuts must be addressed, or the door will not seal properly against the gasket.
The use of 13 mm high threshold requires a special undercut of the door. Typical doors have undercuts of 16 mm or 20 mm (0.75 in.); doors with 13 mm high thresholds require a 10 mm (0.375 in.) undercut when using a panic type threshold. To meet ADA requirements a threshold, rise no greater than 13 mm should be specified.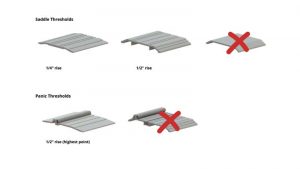 Door Surfaces
Door surfaces are often an overlooked element. According to 404.2.10, Door and Gate Surfaces: "Swinging door and gate surfaces within 255 mm (10 in.) of the finish floor or ground measured vertically shall have a smooth surface on the push side extending the full width of the door or gate. Parts creating horizontal or vertical joints in these surfaces shall be within 1.6 mm (0.06 in.) of the same plane as the other. Cavities created by added kick plates shall be capped."
This standard is often harder to meet in a retrofit project than new construction because narrow-style doors in older buildings often had a 51 mm (2 in.) bottom rail on the door. To create the 255 mm bottom rail for today's requirements, a kick plate can be added.
This plate protects the door as it gets bumped into while being navigated by a motorized cart or wheelchair as the individual passes through the opening. A common error when using a kickplate to correct the deficiency is not capping it to eliminate the gap from the kickplate to the glass or panel. This may not be the most aesthetically pleasing solution, but it would be considered compliant.