Exit Door Signage
ADAAG section 216.4.1 states, "Doors at exit passageways, exit discharge, and exit stairways shall be identified by tactile signs complying with 703.1, 703.2, and 703.5."
This means, where there is a lit exit sign above an opening, there must also be a tactile sign in Braille on the door or adjacent to the opening 1220 mm centerline of the sign above the finished floor.
National and Local Differences
It is additionally important to check state and local codes for specific standards that have been adopted. For example, the State of California requires—where push plates are furnished—two actuating switches must be used per approach (either in one tall plate or two separate plates), and the centerlines of these switches be located between 178 and 203 mm (7 and 8 in.) and 762 to 1118 mm (30 to 44 in.) above the finished floor.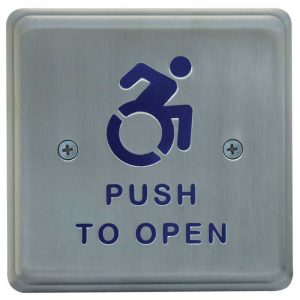 This allows the user to operate it with their hands, feet, or possibly even their cane. In all other states, the mounting height for actuators is between 865 and 1220 mm from the floor or ground.
The Accessibility Icon Project is dedicated to changing the symbol for wheelchair accessibility. Specifically, the project claims the current symbol depicts disabled individuals as inactive. Their suggested symbol is an image showing individuals with disabilities more physically engaged; it is beginning to be accepted as the new standard  (see Figure 10). In July 2014, New York became the first state to replace the universal handicap icon with the more active, engaging symbol. In 2017, Connecticut followed suit.
If a specifier knows what is expected of a building, it will be easier to make sure everything meets the necessary requirements before construction starts and create a safer, more accessible space for everyone.
Author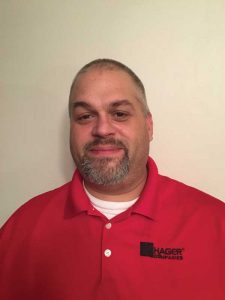 Kevin Tish CDT, AOC, CFDAI, DHC, DHT, is the manager of architectural specification writers at Hager Companies, a leading manufacturer of door hardware. He has 17 years of experience in the door, frame, and hardware industry. Tish volunteers as an instructor for the Door and Hardware Institute (DHI) and is currently serving as the DHI Certification Council Chair. He can be reached via email at ktish@hagerco.com.
For more information about designing and construction with ADA standards in mind, see Tish's CSI Learning Library presentation: ADA-A117.1 – Meeting Accessibility for Doors and Hardware.