Achieving green building goals with architectural metal coating systems
October 1, 2021
By Channing Beaudry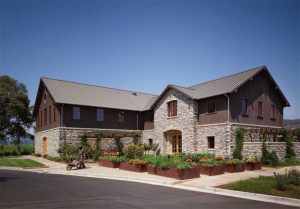 As more people return to workplaces, schools, hotels, event venues, and other destinations, they seek reassurance that building owners share their concerns not only for environmental health, but also for their personal health.
Architects and specifiers increasingly seek options for architectural metal coatings combining sustainability, durability, and a wide variety of colors. Now, they have a choice of innovative coil and extrusion finishes to support energy efficiency, reduced maintenance, product longevity, and material circularity.
Coil coatings are factory-applied to coiled metal substrates by a continuous, automated process. Metal coils are unwound, cleaned, pretreated, and given a series of coating layers (i.e. primer, backer, and topcoat) before being thermally cured and recoiled for shipment. Common coil coated products used in construction include roofing, wall panels, soffits, and fascia.
Extrusion coatings are factory-applied in a manufacturing process that consists of cleaning and pretreating aluminum preformed extrusions, going through a spray process, and then thermally curing the metal coating system for it to set. Finished metal extrusion products include framing members of curtainwall, storefront, window, skylight and entrance systems, sun screens, canopies, and some wall panel systems.
The biggest difference between coil and extrusion coatings is how and when they are applied: Coil coatings are applied to the metal substrate before they are formed into building products, and extrusion coatings are spray-applied after the product profile has been formed. Together, they provide the finished metal products needed for commercial, institutional, and residential buildings.
Green building benchmark programs
The world is expected to add 230,400 km2 (2.48 trillion sf) of new floor area by 2060, doubling global stock. This is the equivalent of adding an entire New York City every month for 40 years and buildings already account for nearly 40 percent of all greenhouse gas emissions.
In the U.S., commercial buildings account for 18 percent of total energy consumption. New buildings are designed and constructed with bigger footprints than existing or demolished ones. More energy is required to heat, cool, and operate buildings[2] with larger space and longer operating hours.
In 2020, the market for green building materials in the U.S.[3] was estimated at $64.6 billion. This represents approximately 28 percent of the $238 billion global market, and is projected to reach $425.4 billion by 2027.
Contributing to this growth, more building owners and municipalities are adopting green building codes and standards to fight climate change, improve air quality, and protect public health. Some of the most recognized are the U.S. Green Building Council's (USGBC's) Leadership in Energy and Environmental Design (LEED) programs.
LEED-certified buildings achieved an estimated $1.2 billion in energy savings and $715.3 million in maintenance savings between 2015 to 2018, along with associated greenhouse gas reductions. By 2030, LEED projects will have diverted more than 540 million tons of waste from landfills.
Vacancy rates for green buildings are an estimated four percent lower than non-green properties; these properties also command the highest rent at up to 20 percent above average. Employers in LEED-certified spaces report higher recruitment and retention rates, and employees report higher productivity.
More than $100 billion in green materials are estimated to have been specified on LEED-certified buildings.[4] The most current version of the rating system, LEED v4.1, raises the bar on green building standards, prioritizing the most important asset of the building: people. It includes a rigorous focus on material selection, air quality, and human comfort and health.
Green building next-level programs
LEED v4.1
The LEED v4.1 Materials and Resources (MR) category provides several credit opportunities including material ingredient reporting and optimization; responsible sourcing of raw materials; waste reduction and management; life-cycle analysis with whole-building life-cycle assessment (LCA) and environmental product declarations (EPDs); and more.
Among the many paths to achieving this credit, LEED v4.1 also recognizes building products and materials providing health product declarations (HPDs) as part of the Building Product Disclosure and Optimization–Material Ingredients credit. Material composition must be reported down to 1000 parts per million (ppm) to qualify for LEED. The function of the substance and any information regarding impurities or residuals also may be reported. Specifiers with projects seeking to meet environmental goals such as LEED v4.1 certification should request the relevant documentation from their architectural coatings' manufacturers.
Because coatings are an ingredient of the end product, only an HPD declaration can be given. However, once the coating is applied to the substrate, the metal building product manufacturer may be able to provide an EPD.
Living Building Challenge
Going beyond LEED certification, the International Living Future Institute's (ILFI) Living Building Challenge (LBC) was launched by the Cascadia Green Building Council in 2006. Currently, it is considered the world's most rigorous green building standard. Driven to develop a green framework for the 21st century, "Living Buildings strive for net-zero or net-positive energy, are free of toxic chemicals, and lower their energy footprint many times below the generic commercial structure. To be certified under the LBC, projects must meet a series of ambitious performance requirements[5] over a minimum of 12 months of continuous occupancy." As of May 2020, there were 134 certified and 686 registered ILFI projects[6] from 34 nations.
Assisting building teams make informed decisions about material selections and specifications, ILFI also offers the Declare Label. Described as "an ingredients label for building products," Declare Labels are active for 12 months, after which they must be renewed.
Products and materials labeled as Declare 2.0 include one of three declaration status indications for compliance with the LBC Red List Imperative and ingredient disclosure:
• LBC Red List Free products disclose 100 percent of product ingredients plus residuals present at or above 100 ppm (0.01 percent) in the final product and do not contain any Red List chemicals. They have been shown to meet the requirements of the LBC Red List Imperative.
• LBC Red List Approved products meet the written requirements but rely on one or more exceptions to demonstrate compliance. A minimum of 99 percent of product ingredients plus residuals present at or above 100 ppm (0.01 percent) in the final product are disclosed. The product may contain one or more Red List chemicals if they fall under an existing, published LBC Temporary Exception. They have been shown to meet the requirements of the LBC Red List.
• Declared products disclose 100 percent of product ingredients plus residuals present at or above 100 ppm (0.01 percent) in the final product but contain one or more Red List chemicals not covered by an existing Exception. 'Declared' labels require additional product research and vetting to locate a fully compliant product before it may be used on a LBC project.
Declare also has been approved as a compliance pathway for the LEED v4 and v4.1 Building Product Disclosure and Optimization Credit, Option 1. The LEED v4 and v4.1 credits call for the chemical inventory of a product to at least 1000 ppm; Declare labels that achieve a declaration status of 'LBC Red List Free' or 'Declared' fulfill the credit disclosure compliance requirements.
In addition, any fully disclosed 'LBC Red List Approved' label and any 'LBC Red List Approved' label using the I10-E4 Proprietary Ingredients Exception, with a minimum disclosure threshold of 99.9 percent, meets the LEED v4 and v4.1 Building Product Disclosure and Optimization Credit, Option 1 reporting requirements.
Declare has also been approved as a compliance pathway for LEED v4.1 Building Product Disclosure and Optimization Credit, Option 2. Declare labels achieving third-party verification and a declaration status of 'LBC Red List Free[7]' fulfill the credit optimization requirements.
Red List ready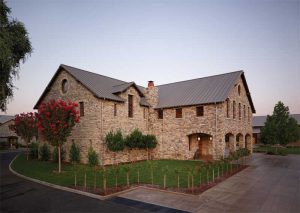 Along with evaluating ingredients for potential concerns, innovative coatings manufacturers must ensure their formulations do not sacrifice expected performance, resilience, and reliability.
The source of a coating's durability and physical properties is largely its resin; the resin's primary function in a paint formulation is to bind all the components together. It increases the physical strength and chemical resistance of the coating film and allows for the curing process to occur. Architectural coating systems with 70 percent polyvinylidene fluoride (PVDF) resins[8] (a type of fluoropolymer) meet the industry's highest performance specification standard.
American Architectural Manufacturers Association (AAMA) 2605, Voluntary Specification, Performance Requirements and Test Procedures for Superior Performing Organic Coatings on Aluminum Extrusions and Panels (with Coil Coating Appendix), is published by the Fenestration and Glazing Industry Alliance (FGIA) and was updated in 2020. They are tested to meet or exceed the equivalent of 10 years south Florida weathering exposure conditions for color retention, and resistance to fading, chalking, and erosion. In addition, AAMA 2605[9] requires 4000 hours of accelerated testing for salt spray and humidity resistance.
Currently, one manufacturer has formulated a 70 percent PVDF resin-based, high-performance, architectural coating system free of any LBC Red List chemicals. Both coil and extrusion coatings using this formulation are verified to meet AAMA 2605 performance standards, documented with HPDs for material ingredient transparency, and supported with CSI MasterFormat specifications.
Declare Labels, listing a life expectancy of 40 years or more, also have been issued when these specialized coatings are factory-applied to metal building products made with common metal substrates such as 55 percent aluminum-zinc coated sheet (AZ50) steel, aluminum, and hot dip galvanized (HDG) steel. The metal material may be manufactured with recycled content and, at the end of the finished product's useful life on a building, it can be recycled and reused without degradation.
When paired with approved pretreatments, primers, topcoats, and backers, these coating systems can be used to deliver a finished product that is LBC Red List Free or LBC Red List Approved. Providing further reassurance these coatings would perform as specified, finished metal panels are being field-tested at outdoor exposure sites in Fort Myers and Daytona Beach, Florida. After four years, corrosion remained minimal on all systems[10].
Project case study: SEI Investments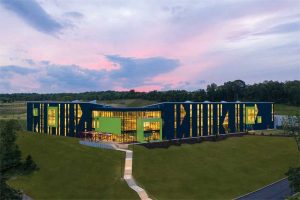 Designed by MSR Design, the newly opened Valley View building on SEI Investments' North Campus in Oaks, Pennsylvania, features an aluminum panel wall system finished in navy blue and a bright green. Along with these architectural coatings' visibly vivid colors, these innovative finishes are formulated with solar reflective pigments and without the use of Living Building Challenge (LBC) Red List chemicals.
As with other 70 percent PVDF resin-based, high-performance architectural coating systems, these meet or exceed American Architectural Manufacturers Association (AAMA) 2605, Voluntary Specification, Performance Requirements and Test Procedures for Superior Performing Organic Coatings on Aluminum Extrusions and Panels and offer a lifespan of 40 years or more. The finished panels are supported with an LBC Red List Free Declare Label, require minimal maintenance, and can be recycled at the end of their useful life on SEI's Valley View building.
"We went through the rigor of proving it had a good return on investment (ROI), which made it a clear and obvious decision for us," said MSR Design's architect and principal, Paul Mellblom, FAIA, LEED AP BD+C. "Every project has a limited pot of money. How do you spend it for the best results? Return on investment isn't just monetary. The well-being of your staff is also a driver.
"SEI's team all work in these buildings. It matters to them personally, even though sustainability wasn't directly stated on their agenda. We showed them how material choices support their values and how better, healthier spaces help reduce absenteeism and turnover. We discussed how improved indoor environmental quality is a natural fit for the way they work. We want to design the best building possible that reflects these values for their employees' well-being and health. This also means we keep financial considerations in mind that go beyond 'first costs,' and look at durable, low-maintenance materials and products that add value to their long-term operational costs."
SEI is a global wealth management firm that has steadily grown to more than 3700 employees managing $1 trillion in assets. A client of MSR Design's since the early 1990s, the owner's representative, architecture and consultant team developed the master plan for SEI's South Campus and designed 10 buildings, called 'sheds,' plus three parking garages. By 2017, SEI's existing staff was exceeding capacity; many staff were working remotely. Being agile and flexible allowed them to adeptly pivot and continuously operate through the pandemic.
"They are thoughtful and diligent in responding to forecasted and unforeseen circumstances," said Mellblom. "As a publicly traded company in financial services, they are very savvy about how they spend their money. Their buildings are designed and built to be incredibly efficient in how they operate and how they support their work."
He continued, "We wanted to bring their North Campus building design into the 21st century. The South Campus is beautifully landscaped, with the building design evolved from the 1990s. For the new campus, they were ready to think freshly, while keeping an eye on sustainability, occupant health, and operational costs."
With these goals at the forefront for Valley View, MSR Design's architect and associate, Simona Fischer, AIA, said: "Wherever possible, we would design the building to be energy-efficient and to make good material decisions. We were guided by LEED [Leadership in Energy and Environmental Design] and LBC but didn't go for certification. The use of a Red List Free metal panel coating was an example of us bringing the idea to the table and doing the research to show it would work as well, if not better, and that the cost difference was negligible."
Unlike the South Campus buildings, the metal wall panel systems on Valley View were not fabricated and finished on-site. Instead, the building relied on factory-fabricated, factory-finished wall cladding systems. This allowed for greater quality control in applying the specially formulated, vibrantly colorful, sustainable, durable architectural coatings, and in precisely forming the finished panels.
In selecting and specifying these materials, Fischer observed: "Two critical points in specification contribute to successfully implementing a key product: one when the architect and owner decide on the materials, products, and systems and a second one with the contractors, where we have to be prepared for substitution requests. We reviewed submittals carefully to make sure specified materials weren't flying out of the project. On certain key materials we had a plan in place to address both the owner's and contractor's questions. We anticipated their questions, gathered the supporting data, and had the right people at [the coating system manufacturer] on speed dial to reassure them or provide guidance as needed."
According to Fischer, there was no significant cost difference between the metal wall cladding system using the typical polyvinylidene fluoride (PVDF) coating versus the new, Red List Free version.
"So why not err on the side of caution and use materials we do know are healthier?" she said. "If we have the choice, let's use a better product that works well, is cost competitive, is easily maintained, lasts a long time, and can be recycled."
Valley View is the first of several buildings planned and designed by MSR Design and the consultant team for SEI's North Campus. The 10,033.5-m2 (108,000-sf), three-story building offers an open-plan office with space to host events for staff and clients. There are large meeting rooms, a small café with a walk-out patio, and room for more than 600 people.
Real world specification and application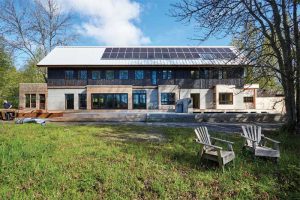 As with all commercial buildings, the coating selection and specification process usually starts by choosing the right colors. While a wide range of colors are available, custom colors in any formulation are important to discuss with the coating and product manufacturers during schematic design. Not all pigments may be LBC Red List Free, but a qualified coatings manufacturer can provide the closest color match for approval.
To ensure the project's exact look, proper performance, and intended sustainability goals are met, coatings manufacturers can help guide the team through any complexities. They also can provide color samples to assist with this decision and to provide a list of approved applicators.
To ensure the specified sustainability criteria, the coating process requires strict factory controls to mitigate transfer between standard formulations and LBC Red List Free formulations. Qualified coaters and applicators must:
• apply the coating on metal made with an approved common metal substrate;
• clean the surface of the substrate to ensure it is free from impurities such as dirt, debris, and mill oils; and
• use a pretreatment and coating system that meets the LBC requirements, and for coil coatings, an approved backer also is required.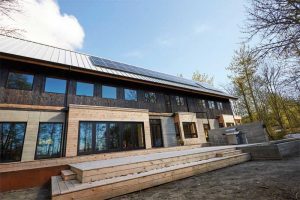 Safe management of coatings' volatile organic compounds (VOCs) is also a key consideration in choosing a coater or applicator. Environmentally responsible applicators go beyond providing workers with personal protective equipment (PPE) and factory-controlled conditions to manage VOCs. A thermal oxidizer safely captures and eliminates the VOCs and recycles them to provide heat for the coating process, so there is no adverse environmental impact.
Mitigating the heat island effect
Saving energy, reducing greenhouse gas emissions, and improving environmental health are among the high-priority sustainability goals for building project teams.
According to the Environmental Protection Agency[13] (EPA): "Structures such as buildings, roads, and other infrastructure absorb and re-emit the sun's heat more than natural landscapes such as forests and water bodies. Urban areas, where these structures are highly concentrated and greenery is limited, become 'islands' of higher temperatures relative to outlying areas. Daytime temperatures in urban areas are about -17.2 to -14.4 C (1 to 7 F) higher than temperatures in outlying areas and nighttime temperatures are about -16.6 to -15 C (2 to 5 F) higher."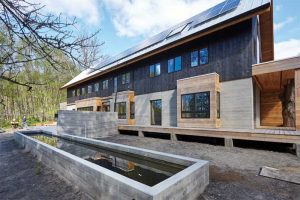 The year 2020 tied with 2016 as the hottest on record[15] since temperature recording started in the late 19th century.
Solar-reflective (SR) cool coating technologies can help mitigate this effect and create more energy-efficient metal building products. SR coatings for metal roofing can help offset this effect by reflecting UV rays, keeping the surface of the roof cooler, and reducing the amount of heat transferred into the structure—resulting in decreased energy consumption and costs to cool the building.
Architectural coatings containing SR pigments have been altered both physically and chemically to reflect infrared radiation, while still absorbing the same amount of visible light. As a result, the coating and the metal roof stay cooler. These coatings are available in a variety of technologies and energy-efficient colors that meet rigorous LBC, LEED, Energy Star, and Cool Roof Rating Council (CRRC) requirements[16].13
A study by the Oak Ridge National Laboratory (ORNL)[17] found when asphalt shingled roofs are converted to pre-painted cool metal roofs, energy costs can decrease by up to 20 percent.
Protecting the structural integrity of the roof, the finished metal[18] helps shed heavy snow loads; withstands extreme sun, high wind, and heavy rain; and requires minimal maintenance. It also is noncombustible, increasingly important in areas prone to wildfires.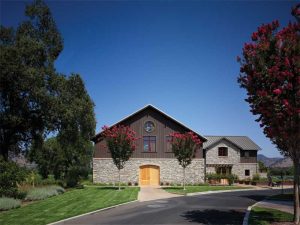 In general, metal roofs can be expected to last 30 to 50 years or more, compared to asphalt singled roofs with lifespans of 12 to 20 years. One metal roof with high-performance coatings saves the equivalent of two to three asphalt roofs in materials, labor, maintenance, cost, waste to landfills, and associated emissions. The longevity of metal roofs also is compatible with rooftop solar arrays.
Solar panels often have a longer life cycle than traditional asphalt shingled roofing, so the asphalt shingles would need to be replaced during the photovoltaic system's lifespan. At the end of their life cycle, metal roofs also can be recycled.
Conclusion
With a deep understanding of the material composition and finishing process, the coating manufacturer, finisher, and metal building product manufacturer can assist architects and specifiers with documentation to support projects' sustainability goals, LEED, and LBC submissions.
For commercial building projects seeking next-level sustainability, architects and specifiers now have the option of choosing coil or extrusion coatings formulated without the use of LBC Red List chemicals. With reduced harsh materials, these high-performance, durable, architectural coating systems support LEED v4.1 and LBC Red List compliance when applied to metal building products made with common metal substrates.

Channing Beaudry leads the global research and development group for Sherwin-Williams' coil and extrusion coatings division. With dual degrees in chemistry and chemical engineering from the University of Minnesota and more than 20 years of experience in the paint and coatings industry, Channing has led the development of a wide range of innovative coating systems across several industries including general industrial segments and building products. Channing works with architects and customers to understand their unique needs and develop coatings for metal building products that meet any aesthetic or specification while lasting long into the future. He can be reached at channing.beaudry@sherwin.com.
Endnotes:
[Image]: https://www.constructionspecifier.com/wp-content/uploads/2021/10/2MetalSales_Sherwin-WilliamsCC_CA-SilverOakCellars_officeRoof.jpg
required to heat, cool, and operate buildings: https://www.eia.gov/energyexplained/use-of-energy/
market for green building materials in the U.S.: https://www.researchandmarkets.com/reports/1244806/green_building_materials_global_market
LEED-certified buildings.: https://www.usgbc.org/leed/why-leed
series of ambitious performance requirements: https://living-future.org/contact-us/faq/
134 certified and 686 registered ILFI projects: https://www.enr.com/articles/49366-living-future-institute-broadens-its-impact-with-range-of-green-certifications
LBC Red List Free: http://living-future.org/contact-us/faq
polyvinylidene fluoride (PVDF) resins: https://www.enr.com/articles/49366-living-future-institute-broadens-its-impact-with-range-of-green-certifications
AAMA 2605: http://store.fgiaonline.org/pubstore/ProductResults.asp
corrosion remained minimal on all systems: https://industrial.sherwin-williams.com/content/dam/pcg/sherwin-williams/coil-extrusion/na/us/en-us/pdfs/general--overview-pdfs/fluroponpure_technicalwp_1.pdf
[Image]: https://www.constructionspecifier.com/wp-content/uploads/2021/10/4Sherwin-WilliamsCC_WA-HeronHall_DanielBanko_214.jpg
[Image]: https://www.constructionspecifier.com/wp-content/uploads/2021/10/4Sherwin-WilliamsCC_WA-HeronHall_DanielBanko_208.jpg
Environmental Protection Agency: https://www.nasa.gov/press-release/2020-tied-for-warmest-year-on-record-nasa-analysis-shows
[Image]: https://www.constructionspecifier.com/wp-content/uploads/2021/10/4Sherwin-WilliamsCC_WA-HeronHall_DanielBanko_217.jpg
hottest on record: http://www.nasa.gov/press-release/2020-tied-for-warmest-year-on-record-nasa-analysis-shows
LBC, LEED, Energy Star, and Cool Roof Rating Council (CRRC) requirements: http://industrial.sherwin-williams.com/content/dam/pcg/sherwin-williams/coil-extrusion/na/us/en-us/pdfs/general--overview-pdfs/SWCC_SustainableMetalCoatings.pdf
Oak Ridge National Laboratory (ORNL): http://web.ornl.gov/sci/buildings/conf-archive/2010%20B11%20papers/64_Miller.pdf
the finished metal: https://www.metalroofing.com/residential-metal-roofing/frequently-asked-questions/
Source URL: https://www.constructionspecifier.com/achieving-green-building-goals-with-architectural-metal-coating-systems/
---