Project case study: SEI Investments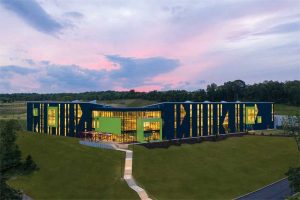 Designed by MSR Design, the newly opened Valley View building on SEI Investments' North Campus in Oaks, Pennsylvania, features an aluminum panel wall system finished in navy blue and a bright green. Along with these architectural coatings' visibly vivid colors, these innovative finishes are formulated with solar reflective pigments and without the use of Living Building Challenge (LBC) Red List chemicals.
As with other 70 percent PVDF resin-based, high-performance architectural coating systems, these meet or exceed American Architectural Manufacturers Association (AAMA) 2605, Voluntary Specification, Performance Requirements and Test Procedures for Superior Performing Organic Coatings on Aluminum Extrusions and Panels and offer a lifespan of 40 years or more. The finished panels are supported with an LBC Red List Free Declare Label, require minimal maintenance, and can be recycled at the end of their useful life on SEI's Valley View building.
"We went through the rigor of proving it had a good return on investment (ROI), which made it a clear and obvious decision for us," said MSR Design's architect and principal, Paul Mellblom, FAIA, LEED AP BD+C. "Every project has a limited pot of money. How do you spend it for the best results? Return on investment isn't just monetary. The well-being of your staff is also a driver.
"SEI's team all work in these buildings. It matters to them personally, even though sustainability wasn't directly stated on their agenda. We showed them how material choices support their values and how better, healthier spaces help reduce absenteeism and turnover. We discussed how improved indoor environmental quality is a natural fit for the way they work. We want to design the best building possible that reflects these values for their employees' well-being and health. This also means we keep financial considerations in mind that go beyond 'first costs,' and look at durable, low-maintenance materials and products that add value to their long-term operational costs."
SEI is a global wealth management firm that has steadily grown to more than 3700 employees managing $1 trillion in assets. A client of MSR Design's since the early 1990s, the owner's representative, architecture and consultant team developed the master plan for SEI's South Campus and designed 10 buildings, called 'sheds,' plus three parking garages. By 2017, SEI's existing staff was exceeding capacity; many staff were working remotely. Being agile and flexible allowed them to adeptly pivot and continuously operate through the pandemic.
"They are thoughtful and diligent in responding to forecasted and unforeseen circumstances," said Mellblom. "As a publicly traded company in financial services, they are very savvy about how they spend their money. Their buildings are designed and built to be incredibly efficient in how they operate and how they support their work."
He continued, "We wanted to bring their North Campus building design into the 21st century. The South Campus is beautifully landscaped, with the building design evolved from the 1990s. For the new campus, they were ready to think freshly, while keeping an eye on sustainability, occupant health, and operational costs."
With these goals at the forefront for Valley View, MSR Design's architect and associate, Simona Fischer, AIA, said: "Wherever possible, we would design the building to be energy-efficient and to make good material decisions. We were guided by LEED [Leadership in Energy and Environmental Design] and LBC but didn't go for certification. The use of a Red List Free metal panel coating was an example of us bringing the idea to the table and doing the research to show it would work as well, if not better, and that the cost difference was negligible."
Unlike the South Campus buildings, the metal wall panel systems on Valley View were not fabricated and finished on-site. Instead, the building relied on factory-fabricated, factory-finished wall cladding systems. This allowed for greater quality control in applying the specially formulated, vibrantly colorful, sustainable, durable architectural coatings, and in precisely forming the finished panels.
In selecting and specifying these materials, Fischer observed: "Two critical points in specification contribute to successfully implementing a key product: one when the architect and owner decide on the materials, products, and systems and a second one with the contractors, where we have to be prepared for substitution requests. We reviewed submittals carefully to make sure specified materials weren't flying out of the project. On certain key materials we had a plan in place to address both the owner's and contractor's questions. We anticipated their questions, gathered the supporting data, and had the right people at [the coating system manufacturer] on speed dial to reassure them or provide guidance as needed."
According to Fischer, there was no significant cost difference between the metal wall cladding system using the typical polyvinylidene fluoride (PVDF) coating versus the new, Red List Free version.
"So why not err on the side of caution and use materials we do know are healthier?" she said. "If we have the choice, let's use a better product that works well, is cost competitive, is easily maintained, lasts a long time, and can be recycled."
Valley View is the first of several buildings planned and designed by MSR Design and the consultant team for SEI's North Campus. The 10,033.5-m2 (108,000-sf), three-story building offers an open-plan office with space to host events for staff and clients. There are large meeting rooms, a small café with a walk-out patio, and room for more than 600 people.