Architectural railings complement Kentucky hotel's minimalist design
by sadia_badhon | May 19, 2021 10:03 pm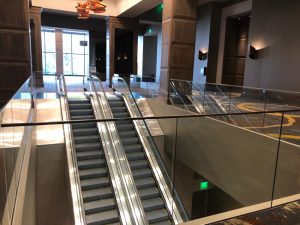 The OMNI Louisville Hotel in Louisville, Kentucky, blends the city's historic surroundings with modern comforts, adding more than 600 hotel rooms and 225 luxury apartments to the city's downtown area. The 30-story building designed by architecture firm HKS[2] is one of the tallest and most luxurious hotels in the city. The designers used architectural railings to complement the minimalist, modern design of the building.
Once inside the OMNI, guests and residents will notice the design team took the idea of "paying homage to Louisville" seriously—think Louisville Sluggers, Kentucky Derby, disco balls, and Mohammed Ali—adding touches from the city throughout the hotel. The design team also incorporated creativity into the boardrooms featuring tables with baseball bats for legs and meeting rooms named after the bourbon production process, to the lobby ceiling (which is shaped like an oak keg).
Among the architectural highlights are the more than 2000 linear feet of ornamental railings. Handrail and picket rail found inside and outside the hotel add to its modern, minimalist design.
In the hotel lobby, glass guardrail finished with stainless steel cladding is found along the escalator guiding visitors to the art gallery on the lower level and providing visibility between floors. Next to the escalator is welded gating with laminated glass, also contributing to the open, airy feeling of the space. Custom laminated glass guardrail with aluminum cladding surrounds the rooftop pool on the third floor.
Seamlessly integrated into the ceiling of the lower-level art gallery is a custom-designed smoke baffle system with clear tempered glass designed to prevent smoke from rising to the upper level lobby. In the event of a fire, smoke can travel as fast as flames, posing major safety risks to a building and its occupants. The smoke baffle marries form and function. Engineered to meet today's fire codes for commercial buildings, the smoke screen creates a virtually invisible glass curtain that is high temperature resistant and designed to contain and prevent the spread of smoke.
The OMNI Louisville combines lifestyle and conventional hotel elements, including two restaurants, a spa and fitness center, gaming area, a bourbon retail store and giftshop, a grocery store, and an 850-space parking deck. The 111,484-m2 (1.2 million-sf) mixed-use property aims to reshape the city's hospitality scene, attracting larger conventions with 6503 m2 (70,000 sf) of flexible meeting and event space.
Endnotes:
[Image]: https://www.constructionspecifier.com/wp-content/uploads/2021/05/Opener-28.jpg
HKS: https://www.hksinc.com/
Source URL: https://www.constructionspecifier.com/architectural-railings-complement-kentucky-hotels-minimalist-design/
---