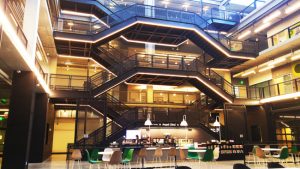 Tech giant Amazon opened a 19,881-m2 (214,000-sf) office complex in East Palo Alto, California, designed by IA Interior Architects Inc. To complement its modern aesthetic, more than 1200 linear feet of architectural railings were custom engineered for its four-story central atrium stairways, landing, and overlooks.
Housed in a converted warehouse space, the University Square office building boasts a contemporary, open-concept design similar to spaces found in San Francisco's South of Market (SoMa) district, yet infused with the Amazon essence.
Architectural railings with powder-coated steel are featured throughout the four-story atrium, enhancing the open-concept design of the office. The railing flows seamlessly from the atrium landings and staircases to the ground-floor gathering area. The infills are 19 mm (¾ in.) expanded metal panels made by slitting and stretching metal sheets to create diamond-shaped openings and also flattened carbon steel.
Construction of the guardrails consisted of carbon steel double 50 x 13 mm (2 x 1/2 in.) flat bar posts and 64 x 19 mm (2 1/2 x ¾ in.) top bar. There is a 38 x 6-mm (1 1/2 x ¼-in.) steel tab with thru-hole welded to posts to secure infill panel on the sides and top, while the bottom is secured to a steel angle via stainless steel button head cap screws and nylock nuts. The expanded metal infill panel has an 11 gauge formed steel frame with corners welded and ground smooth.
Steel-toed kick plates were added below the guardrail on overlooks and landings to prevent smaller objects from falling over the edge. Handrails are also attached to the steel frame of the guardrail on staircases.
Devcon Construction was the contractor on this project.