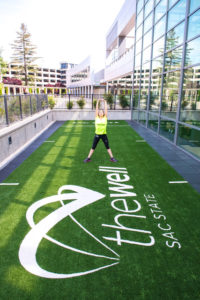 Sacramento State University's 'the WELL,' a recreation and wellness center, flexed its fitness potential with a renovation last summer. As well as spaces focused on health and recreation, the facility contains areas for climbing, boxing, and other sports, and a recent turf replacement adds to the possibilities.
The six-year-old center measures 13,935 m2 (150,000 sf) and—according to Jason Blessinger, the school's assistant director of fitness—was burdened with a design flaw until the renovation.
"When the building was constructed, the architects included some weird spaces that were non-usable outdoor areas," said Blessinger. "More specifically, an area of the fitness center had access issues, and members could not go in and out of these doors. Our goal was: how can we use this space more effectively? We were looking at enclosing it, which would have cost more than $2 million and was too expensive. The administration thought this space would never be used."
The area in question has now been transformed by the addition of the new turf, featuring thatch support and no infill for better training capabilities. The updated flooring system combines a 25-mm (1-in.) turf layer with a 10-mm (1/3-in.) pad made from recycled athletic shoes for a total thickness of 35 mm (1 1/3 in.).
Surrounding the turf and smoothly linking it to the center's existing flooring is athletic tile, featuring a wear layer on a molded base. Measuring 0.6 m x 0.6 m x 25 mm (2 ft x 2 ft x 1 in.), the tile provides noise and shock absorption for the busy training center.
"We have over 5000 people a day come into our building," said Blessinger. "The university has 32,000 students, and there is nothing else around, so it's highly utilized. Flooring and equipment get used very frequently, so we look for stuff that will last."
Further, the facility's new flooring holds aesthetic appeal. The tile echoes the building's curved shape and provides an even transition between surfacing types, while the turf offers customizability.
"We got our logo on it, and it looks really cool. The logo enhances this space from the outside in," said Blessinger. "We don't have turf anywhere else in our building, so to be able to offer an alternative exercise space is great. Members do sprints, agility work, roll tires, and perform outdoor work in this area."