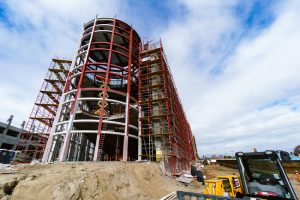 Built in 1955, the Laurel Plaza in North Hollywood, California, has had quite a history and is now entering the next phase of its story. Originally a store, the building was turned into a bustling shopping center before suffering significant earthquake damage a few years ago. The forgotten and dilapidated shopping center is now on its way to be revitalized as a mixed-use community.
The former Laurel Plaza will become NoHo West, complete with office, apartment, and retail spaces. The project will include environmentally friendly features like electric car charging stations, bicycle parking, and a solar energy canopy above the parking garage. The project is also designed to comply with the impending 2020 California Building Code (CBC) that will require continuous insulation (ci) in all new constructions.
The building owner, Merlone Geier Partners, and Los Angeles-based Stir Architecture specified ci as the backbone for new exterior wall systems. The building's original design called for ci to be applied with a water-resistive barrier (WRB) membrane adhered to the face of the ci. The subcontractors worked closely with the insulation manufacturer to alter the wall assembly for better performance. They decided to use the exterior wall insulation as the WRB as well. This new assembly allowed the removal of the adhered sheet WRB in favor of taping the joints to a foil-faced ci and, when an approved tape is properly adhered, it can fulfill the needs of a WRB. Additionally, the insulation was compatible with the multiple types of cladding used on this project.
Since the team chose a solution that could serve as both ci and WRB, they were able to decrease material and labor costs while shortening the construction timeline.