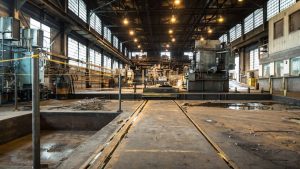 Factory, a scale-up facility and investor for food and beverage brands, has transformed an old steel mill in Bethlehem, Pennsylvania, into a new business incubator for food and consumer-packaged goods.
Providing natural light, while promoting a comfortable and productive interior, Exterior Technologies Inc.'s (EXTECH) interlocking polycarbonate translucent wall system replaced the brick exterior's broken and empty window openings.
To maximize access to natural light, Factory's workspaces are positioned along the building's perimeter. EXTECH's team engineered and custom-fabricated the tongue-and-groove polycarbonate wall assembly as rectangular, fixed, punched, and expansive strip window units. The seven longest horizontal stretches span more than 6.1 m (20 ft) wide by 2.44 m (8 ft) tall.
The openings on the southern elevation were specified with a translucent, opalescent appearance to softly diffuse the interior daylight and minimize glare. Transparent panels were preferred for the building's three other sides. All the polycarbonate panels have a UV-resistant coating on the exterior surface to manage unwanted solar heat gain and maintain a desirable, consistent interior temperature.
The units are framed in aluminum finished in a statuary-bronze-color baked enamel. The framing members' interior and exterior metal surfaces are separated and insulated to improve thermal performance. The combined polycarbonate glazing and thermally broken framing also contribute to reducing the building's demand on electrical and heating, ventilation, and air conditioning (HVAC) systems, optimizing energy efficiency, and lowering associated utility costs.
To retrofit and improve the 3716-m2 (40,000-sf) industrial building, EXTECH worked closely with specialty glazing contractor, Hutt's Glass Co. Inc., to fulfill the design developed by J.G. Petrucci Company and Cerminara Architect for the owner of Factory and Columbia Associates. Construction was provided by Petrucci's Iron Hill Construction Management company.
J.G. Petrucci Company said the team's vision "paid homage to the building's industrial roots by replicating the industrial window style and preserving one of the original cranes that was used by Bethlehem Steel. By keeping these features, the team retained the character of the old Bethlehem Steel building, while bringing new life into it with this exciting food-innovation use."
Contributing to the area's entrepreneurial energy and community, Factory is near college students and creatives with innovative ideas. Set in the Arts District, the building is three blocks from Lehigh University and near Moravian College and Northampton Community College.