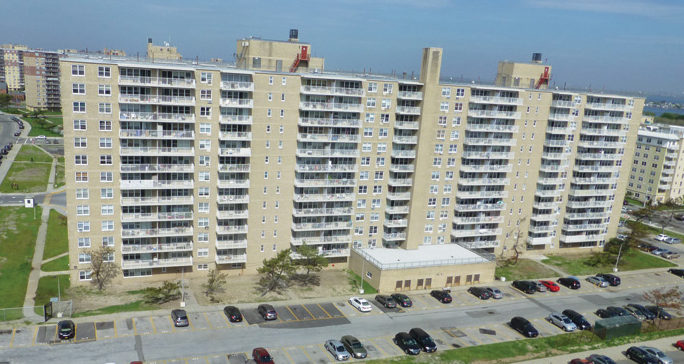 ICEhouse
A recent project spearheaded by architect William McDonough is one example of polycarbonate's applications. Earlier this year, his team's glacial-reminiscent ICEhouse (i.e. Innovation for the Circular Economy) took center stage at the World Economic Forum in Davos, Switzerland, housing some of the planet's most influential leaders. According to its creators, ICEhouse is designed to illustrate the value provided by robust technical 'nutrients,' or materials, such as polycarbonate, in combination with advanced architectural design.
The ICEhouse is primarily made of an aluminum frame structure and several forms of polycarbonate sheets for the cladding. This material is also filled with nanogel—synthetic polymers or biopolymers that are chemically or physically crosslinked—to aid in energy efficiency, which gives the building up to 50 percent energy savings compared to monolayer glass. The ICEhouse's materials are assembled in ways that allow them to be easily disassembled and reused in another location. In fact, at the World Economic Forum, the walls and roof of the structure were assembled onsite by a crew of four workers in just a few days; the entire structure was completed in nine days.
With polycarbonate as a primary material, the project also has built-in resistance to damaging weather wherever it goes. The sheets are 250 times more impact-resistant than glass and virtually unbreakable; they are tested to perform from −40 to 120 C (−40 to 240 F) even in more extreme weather such as windstorms, hail, or snowstorms. The UV-resistant surfaces prevent penetration of both long-wave (UVA) and short-wave (UVB) sunlight radiation.
The ICEhouse also shows how innovative materials from chemical manufacturers can evolve in new ways to support sustainability philosophies. McDonough is one of the founders of Cradle to Cradle, a biomimetic approach that calls on designs to conserve materials and energy through products that are inherently recoverable, reusable, and recyclable. All the materials used in the ICEhouse either have been certified by Cradle to Cradle or are in the process of certification.
Chemistry of sealants
A structure's resiliency often depends on the ability to create a strong seal throughout the building's envelope. Without this, a structure loses its airtightness and watertightness. Building sealants provide important protection to any structure by performing three basic, essential functions: stick, flex, and persist. The first sealants come from humble beginnings, having originated 36,000 years ago in wall construction for dwellings in ancient Babylon and Jericho as naturally occurring bitumen (a type of asphalt).
Sealants in exterior joints are critical for resiliency, guarding against the passage of air and moisture into a building. This is important in maintaining occupant comfort and safety—for example, in the event of power outages during hurricanes in the south or blizzards in the northeast. Such extreme weather conditions can result in bulk water or moisture-laden air harmful to a building's occupants, contents, and structural components.
Through experimentation and testing of a wide range of chemistries, chemists and materials scientists have developed sealants to meet resiliency goals for specifiers and builders. For example, newer hybrid sealants based on silyl-terminated polyether and polyurethane (STPe and STPu) chemistry are among the latest innovations in joint sealants. They have molecular chains (silyl) that, when modified, exhibit attributes of both urethane and silicone sealants, combining some of the strengths of each.
Both STPe and STPu sealants' chemistries share many commonalities. The former tend to be lower-modulus sealants, making them ideal for exterior insulation and finish system (EIFS) applications, while the latter are usually higher modulus than STPe, but lower than polyurethane. There is a place for both technologies in the market, depending on the performance demands of joint configuration.
Although they provide different benefits, sealants enable adherence to difficult substrates while providing high movement capability, resulting in long-lasting, watertight seals. Introduced to the North American market in the 1990s, hybrid sealants are considered to be the fastest-growing chemistry within the sealant product segment. In addition to STPu and STPe, a broad range of additives can be also incorporated into hybrid systems. Additional chemistry-based additives can give sealants the ability to bond properly in cold weather, allowing for the construction cycle to be extended and maintenance to be done in winter. The various formulations of sealants also allow for fine-tuning other variables, such as viscosity, UV and color stability, and shelf life.
In addition to STPe and STPu chemistries, SPF can be used as a resilient sealant material. These sealant foams are similar in content to wall foams, and are either single-component or plural-component sealants in cans for smaller cracks and finer applications. Foam sealants help reduce air leakage, which can result in lower utility bills, lowered greenhouse gas (GHG) emissions, and improved IAQ by decreasing infiltration of dust and allergens. (This information comes from www.sweets.construction.com/swts_content_files/153465/2297521.pdf.)

Foam sealants can also improve a building's strength, essentially increasing the resistance to wind uplift in Category IV or V hurricane conditions. Testing at the University of Florida indicates closed-cell sprayfoam used as an adhesive can increase a roof's wind uplift resistance two to three times that of a typical roof. Testing at Clemson University's Civil Engineering Department showed foam adhesive systems can increase metal roof uplift resistance 250 to 300 percent versus traditional methods.