By Shawn McCormick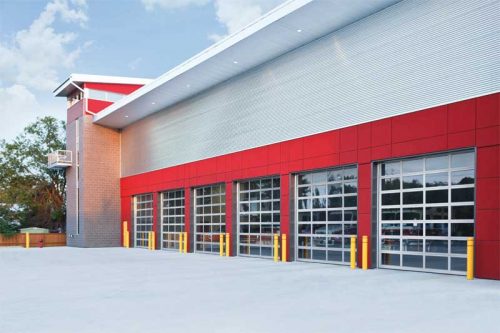 From schools, healthcare facilities, and hospitality spaces to manufacturing plants, event complexes, and shipping centers, commercial garage doors are essential, high-use components of the built environment. Their performance directly impacts the safety, security, and functionality of the structures in which they are installed, as they are often cycled dozens of times a day to help protect people and property, and help keep industries moving.
Moreover, today's manufacturing capabilities can yield design-forward closure solutions that also add aesthetic value to a property. In some cases, the array of style options available can be customized to suit specific color themes, design intents, or brand identities.
Yet, despite their constant use and high visibility, commercial doors can fall victim to being an afterthought in the specification process. This can lead to challenges such as project delays, compliance violations, costly reworking of construction plans, or even expensive maintenance issues down the line if a door's performance is not adequate for its application.
Start with the best resource
The landscape of commercial door products is vast, with an array of style options and performance features designed for different applications and demands. Finding a look and style to align with an architect's design intent is but one small part of the equation. Optimizing performance and ensuring code compliance is a much more complicated endeavor involving an assessment of all aspects of the closure system, from operating speed and cycle rating to headroom and wind loads—not to mention cross-referencing and verifying information with third-party sources when needed.
Maintaining a knowledge base of all doors and options with this level of detail is simply not practical—especially considering they are just one element of an entire building project. Fortunately, it is also not necessary. When considering closure solutions for any project, it is best to start with the experts who have all the details: the manufacturers themselves.
Selection of commercial garage doors is unlike that of other highly visible and functional building products because it is often difficult to ascertain their full function by simply looking at images and reading product descriptions. Some door manufacturers employ in-house design and technical support representatives to help with product selection or solving specification and installation challenges—which is a great step forward in simplifying the selection process.
However, some manufacturers take the level of service and design tools even further by offering a dedicated portal for commercial garage door specification. Online door specification resources are incredibly valuable because they put creative control at one's fingertips while also saving time by streamlining the complicated specification process.