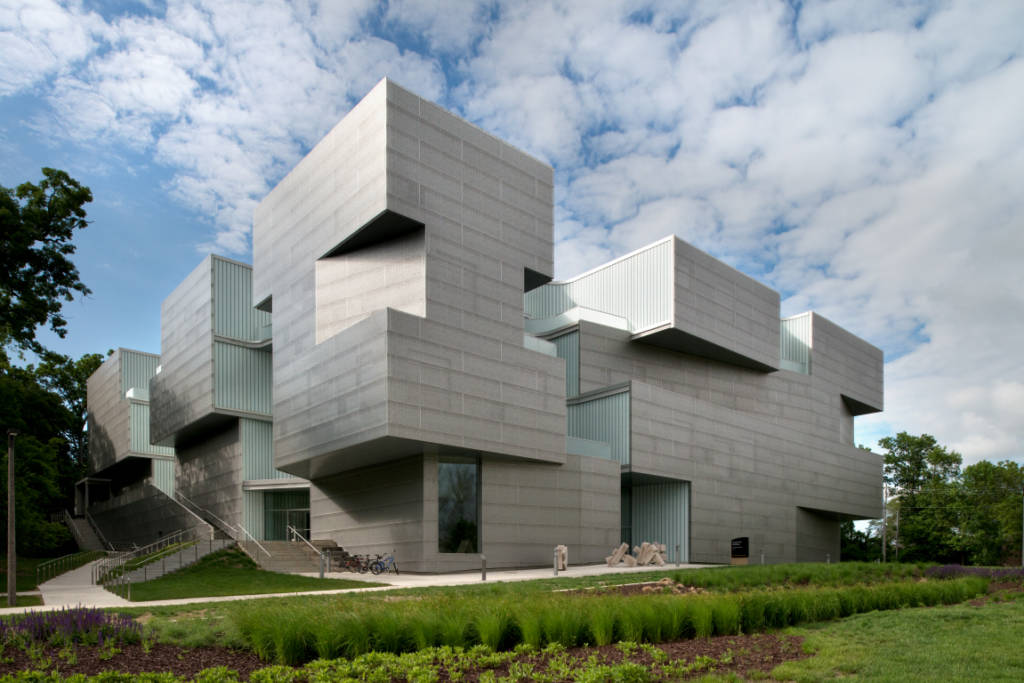 Completed in fall 2016, the University of Iowa's (UI's) Visual Arts Building houses a variety of the school's art departments, including ceramics, sculpture, print making, and photography. The 11,706-m2 (126,000-sf) loft-like space, designed by Steven Holl Architects, encourages interconnection between the arts, creating a collaborative and immersive student experience.
The structure replaces the campus's original arts building, constructed in 1936, which was irreparably damaged during a flood in 2008. The appearance complements UI's adjacent Art Building West, also designed by Holl in 2006, despite the two buildings' drastic differences in both design and materials. While UI's west building embraces natural finishes and elements, the Visual Arts Building instead encompasses an industrial aesthetic.
"We did more than 30 design schemes," said Holl. "It was a very long process, but we were dedicated to finding the right fit. I am very, very proud of the results. It is an economical building, which was another big challenge."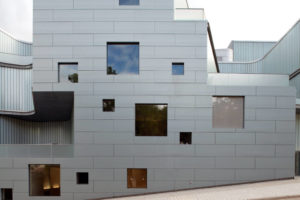 The poured-in-place concrete walls are clad in a custom-designed blue-gray, zinc wall panel system. Additionally, the building's southwest and southeast façades, which overlook Art Building West, are covered in perforated stainless steel panels resting 178 mm (7 in.) off the cladding. The panels, perforated with more than 13,000 holes, allow for natural light to illuminate deep into the building through a series of scooped setbacks.
Approximately 3530 m2 (38,000 sf) of cladding was fabricated and engineered by Pohl group at its headquarters in Cologne, Germany, and shipped ready-to-install to the United States. A 1.5 mm (0.06 in.) rainscreen system was created specifically for the design.
"We invested a tremendous amount of engineering effort in the design of the custom zinc and stainless steel systems," said Thorsten Evenkamp of Pohl Group. "There was no caulking involved with the rainscreen system. In terms of durability and sustainability, it is really state-of-the art. We love working with natural metals and this project is truly a landmark building."
Earlier this month, the project received a Chairman Award for Overall Excellence from the Metal Construction Association (MCA). To read more, click here.