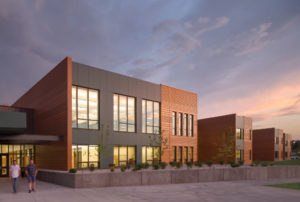 Last week, the Metal Construction Association (MCA) announced the winners of its annual Chairman's Awards at its winter meeting in San Diego, California. Selected by a panel of architects, eight projects involving MCA member companies were recognized for outstanding use of metal in buildings.
Submissions were evaluated based on:
overall appearance;
significance of metal used;
innovative use of metal; and
the role of metal in achieving project objectives.
The Chairman's Award winners in each category are as follows:
Overall Excellence
Residential
Metal Roofing
Mooseheart School—Illinois (architect: Hestrup and Associates; MCA members: Petersen Aluminum and Valspar).
 Education (Primary and Secondary Schools)
Medicine Crow Middle School—Billings, Montana (architect: Integrus and A&E; MCA members: Metal Sales Manufacturing and Valspar).
Education (Colleges and Universities)
Whitcomb Art Center, Knox College—Galesburg, Illinois (architect: Lake-Flato; MCA member: MBCI).
Institutional
Municipal
Commercial/Industrial
To read more about the winning projects, click here.