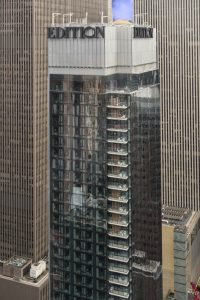 The Marriott Edition hotel at 701 Seventh Avenue in New York City enhances the Times Square entertainment and business district with new amenities, features, and a modern silhouette. The 452-key hotel incorporates a 465-m2 (5000-sf) performance space, a 177-m2 (1900-sf) studio, and a 539-m2 (5800-sf) rooftop beer garden and cabaret theater.
One of Times Square's largest light-emitting diode (LED) screens, covering 1672 m2 (18,000 sf), is also part of the 42-story hotel.
The structure's distinct design is achieved with custom metal assemblies and glass windows. Platt Byard Dovell White Architects, responsible for the building design, wanted a finish option for a textured, polished material forming the rooftop screenwall, dubbed by the team as CL5. The design team also desired a post-industrial finish to the metal that was not directional or mirror-like—a soft, bright glow to the building was the goal. Additionally, the installer needed certain construction features such as a singular assembly spanning slab to slab, with one point of connection from floor to floor. A custom-engineered and vertically oriented screenwall assembly was thus designed to meet the erector's conditions. This also minimized structural attachment points, while resisting up to 20 kg (45 lb) of pressure per square foot of positive and negative wind loads. The assembly was also crafted to make spans of up to 4 m (12 ft) between the horizontal support steel members at the penthouse screenwall applications.
The screenwall panels comprise a variety of components including a formed perforated face panel with 102-mm (4-in.) deep triangular-shaped ribs, and a custom-made extrusion spanning from top to bottom inside the ribs to serve as a panel stiffener. At the roof level, the same panel assemblies were used to conceal mechanical equipment at the bulkhead.
Perforations were made in the aluminum face panels. The panels were specifically sized and spaced to allow for artificial lighting to permeate the façade. For further visual interest, lighting features were added at a strip of panels running from the 12th floor up to the roof. To obtain the architect's desired finish, the perforated metal was scarified to diminish reflectivity and obtain an ethereal, cityscape effect. Between the perforations, the metal ribs, and the oblique angle of the panel assemblies, pitched at 13 degrees from parallel to the walls, the building gained attractive shadowlines—a combined result of the specific material and positioning. This allowed the architect to enhance the building's aesthetics.
Thanks to the collaboration between all the stakeholders, the completed building achieved the desired aesthetic, and opened for business in February 2019.