Color play: How to use hues and neutrals in architectural design
November 25, 2020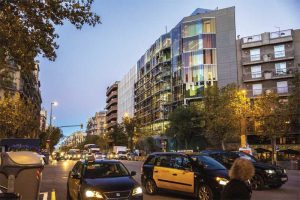 by Julia Schimmelpenningh
Architects and designers have discovered the benefits of using laminated glass with colored interlayers to achieve a specific objective. Whether daylighting, wayfinding, area-defining, or simply transforming the space to bring joy, color is being used increasingly and creatively in interior and exterior design.
Color meets function
The widespread use of glass in architecture is possible because glass has been made stronger and more versatile with built-in performance features through the use of plastic interlayers. Laminated glass consists of two layers of glass bonded together by a thin, flexible plastic interlayer under heat and pressure. Most interlayers can be used with annealed, heat-strengthened, or fully tempered glass. The resulting piece looks like traditional glass—no optical distortion, just excellent strength.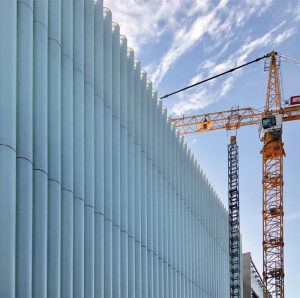 While glass processing by way of strengthening with heat does induce some amount of undulating waves in the material, this is considered a characteristic and can be controlled to some degree.
Laminated glass can be used in place of traditional glass in nearly any architectural application, including façades, stairways, balustrades, railing, curtain walls, windows, overhead glazing, interior partitions, and many forms of decorative element imaginable.
It offers aesthetic benefits that run the color gamut from earth tones and trendy neutrals to the brightest whites and all colors under the rainbow. Colored interlayers for glass have the ability to transform ordinary buildings and interiors into statement pieces. With a palette of over 17,000 color combinations and the ability to combine up to four colored interlayers together, it is possible to achieve more than 3000 transparent or translucent glass colors. If desired, two different colors can be used simultaneously for different reveals on each side of the glass.
These custom design options open up virtually unlimited possibilities for using color in tandem with functional purposes, such as safety, security, and solar and sound control. Designers have experimented with color in many types of building project imaginable, including theaters, schools, hospitals, offices, retail, and hospitality as well as parking garages and wayfinding.
HOW LAMINATED GLASS PACKS A PUNCH
Laminated glass is created when two lites of glass are bonded on either side of a thin, flexible plastic interlayer under heat and pressure. Interlayers can be used with annealed, heat-strengthened, or fully tempered glass.

Controlling the thickness of the interlayer ensures uniformity in the finished product. Technical experts usually work with the glazing customer to ensure all aspects of the processes minimize or eliminate the potential for process-induced optical distortion.

Heat-strengthened glass provides multiple benefits, including thermal stress breakage resistance, reduced potential for spontaneous breakage, a larger break pattern, and optimal residual strength should loads be applied post-breakage.

Laminated glass offers a slate of high-performance characteristics to glazing, including security, enhanced thermal, structural stability, sound damping, solar control, storm resistance, and style. In some cases, these interlayers can be used together or 'stacked' to serve multiple functions in one application.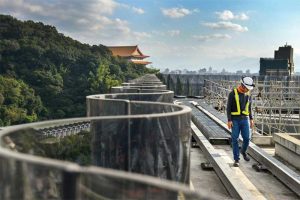 Controlling light
Daylight is dynamic and can change the brightness and color of art, making artificial lighting a frequent choice of museums. This is why cultural arts buildings tend to be devoid of glass walls and windows. However, Stephen Holl Architects had a different idea when designing the new addition of the Museum of Fine Arts Houston (MFAH), the Kinder Building, located in Houston, Texas.
Located in the heart of Houston's Museum District and surrounded by iconic buildings, including Mies van der Rohe's Museum building, the architects were tasked with creating a showpiece. The solution for the Kinder Building was to encase the entire structure in white glass—top to bottom, all around.
Using a system of laminated, translucent glass tubes on the outside walls of the buildings, they found a way to control the light coming in while protecting the priceless classical art inside. Punched openings in the weather wall are opaque and offer a different experience of light behind the glass tubes. Daylight also flows in from clerestory glazing, making the experience of visiting a naturally lit museum completely unique. At night, the glass tubes glow with a soft artificial light, which creates a luminous streetscape.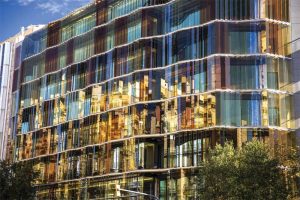 The most creative aspect of the design is the double-layer façade. The outer layer is a 'cool jacket façade,' made of approximately 1150 laminated, translucent glass tubes with a length of up to 6.5 m (21 ft). A steel substructure with an almost invisible structural glazing connection supports the tubes. The glass tubes have an acid-etched surface on the outside with four translucent white polyvinyl butyral (PVB) interlayers to precisely control the amount of daylight passing through them.
Laminated glazing help control solar heat gain and reduce associated cooling loads. The interlayer absorbs energy in the ultraviolet (UV), visible, and infrared wavelength spectrums and dissipates most of the absorbed energy to the outside. By blocking UV radiation, the interlayer system helps protect and preserve interior furnishings and fabrics. Additionally, PVB interlayers provide a high degree of safety. If a portion of the wall would be impacted, the glass would stay intact.
Structural drama
Architects and designers often select laminated glass for its structural properties. They can achieve incredible design flexibility while the structural PVB interlayers contribute to the loadbearing capabilities of the glass. In the case of the Taipei Performing Arts Centre (TPAC) in Taiwan, architect Rem Koolhaas from OMA determined (from past experience) corrugated glass requires smaller and fewer structural components for support.
The cultural center's design is in response to 'cookie-cutter theaters,' featuring the same combination of a larger auditorium, a smaller theater, and a black box. TPAC consists of three theaters that are attached to a central cube, which consolidates the stages, backstages, and support spaces into a single and efficient whole. Its exterior resembles a silver planet docking into a huge gray cube sheathed in S-shaped, laminated, curved glass.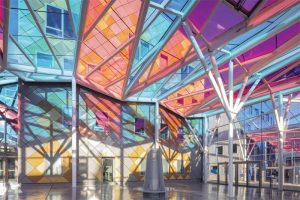 Here again is a structure relying on a single, neutral colorway to keep the focus on the dramatic architecture. The curves of the laminated glass echo the vibrancy of performing arts through light and movement. A twinkling effect occurs as light passes through the glass curves, making the exterior design a source of enjoyment for both theater-goers and the general public.
In addition to its strong visual impact, the gray, laminated, curved glass façade provides solar control performance and natural light ingress. Stunning color, structural support, solar control, and daylighting, all in one building material!
Inspired by nature
Another color trend that is going strong is color inspired by nature. Architects and designers of commercial offices, healthcare facilities, and schools aim to create calm, welcoming spaces that enhance work and creativity by simulating nature-scapes. This can be achieved with the use of colored laminated glass in earthy tones.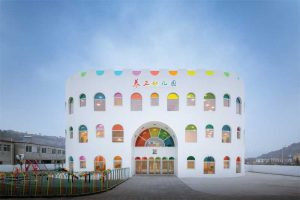 A recent example of this is CDB Arquitectura's integral renovation for the EADA Business School in Barcelona, Spain. The school's original exterior looked like any flat gray stone and glass office building. The school wanted an updated look that mirrored its local and international image, and provide improved accessibility to classrooms. This was achieved by building out a façade using vertical panels of sunny yellow and vibrant blue laminated glass.
All of the classrooms and study rooms have access to the new façade, creating a warm and inviting learning environment. The school's ecological and technological offices feature wood-colored work stations with vertical gardens, transitional carpeting to designated areas, and interior partitions of laminated, tempered-laminated, and curved-laminated glass in shades of green. For areas requiring more privacy, an additional white interlayer was added to the colored panes.
The school's renovation not only highlights the beauty of colored glass, but also showcases its versatility when combined with other processes, such as tempering, screenprinting, daylighting, security, and thermal.
Safety first
When it comes to protection from the elements, colored glass in the form of overhead glazing can be a beautiful experience. Colors sparkle with the sun, deepen with the night, and even dance under rain or melting snow.
For glass to be acceptable for use in overhead applications, it must retain glass shards if broken to prevent accidental injury or property damage. Laminated glass made with a durable plastic interlayer safeguards against high winds and human-made threats such as bomb blasts. It cannot be cut with glasscutters. It withstands blows from forced entry attempts made with bricks, hammers, or crowbars. If the glass cracks from impact, fragments remain attached to the interlayer and limit the risk of flying or falling glass debris.
Due to its glass shard retention and storm-resistance properties, laminated glass is a viable building material for covered surfaces and ceilings. Its beauty and versatility make it suitable for standout designs like the promenade over the Galerie Artem in Nancy, France. Designed by Agence Nicolas Michelin and Associates (ANMA), the promenade is a 300-m (100-ft) transparent glass structure featuring two-tone pink and blue polygonal roof panels, representing the nearby mountains. Even the sawtooth profile of the overhead glazing mimics the surrounding terrain and building rooflines.
The promenade plays a structural and unifying role by providing acclimatized common space for three prestigious universities representing art, technology, and management—the École Nationale Supérieure d'Art de Nancy (ENSA), the École des Mines pour la technologie (ENSMN), and the ICN Business School.
Students, staff, and visitors can mingle and enjoy a confortable environment under the colorful glass canopy that provides high performance protection in the forms of thermal, solar, safety, and security.
Colorful inspiration
Colored glass has long been used in architecture to define a space, add personality, or even tell a story, as is the case of Kaleidoscope in Tianshui City, Gansu Province, China. Colored glass is the focal design element of the newly constructed kindergarten, and its use in arches above glass windows and doors pays tribute to the traditional cave-like dwellings in the Loess Plateau.
With its squat shape, rounded corners, and all-white exterior dotted with three levels of rainbow-hued glass, Kaleidoscope is best described as a giant birthday cake. SAKO Architects selected 10 vibrant colors to repeat above doors and windows, as well as inside on the handrails of corridors and stairs.
The school is topped with a clear atrium, allowing sunlight to shine down on the central stairway. As light passes through the glass arches, it forms colorful shadows of varying shapes. These free-flowing rainbows overlap to create a magical, kaleidoscope effect that rotates with the sun's movement throughout the day. At night, interior lighting turns the building into a breathtaking piece of art.
Like its inspirational name, the entire school is like a giant rotating kaleidoscope, filtering and projecting light with constantly changing colors and patterns. If ever there was such an environment designed to inspire creativity and encourage young minds to thrive, it is Kaleidoscope.
Color's revolution
When most architects and designers are looking to infuse color into their design, they first focus on the visual effects. A selection of earth tones, neutrals, dazzling whites, and almost every color imaginable allows their creative visions to shine.
Laminated glass with colored interlayers not only affords a project beauty, but also helps architects and designers incorporate necessary high-performance benefits, such as light and solar control, structural strength, thermal solutions, safety, and security.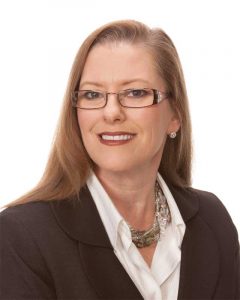 [8]Julia Schimmelpenningh is the architectural industry technical manager for the advanced material interlayers business of Eastman Chemical Company. With more than 30 years of experience in lamination and laminated glass applications, she provides technical product support to glass fabricators, architects, designers, engineers, and specifiers. Schimmelpenningh is a member of the American National Standards Institute (ANSI), ASTM, Canadian General Standards Board (CGSB), National Glass Association (NGA), and International Organization for Standardization (ISO).
Endnotes:
[Image]: https://www.constructionspecifier.com/wp-content/uploads/2020/11/06.jpg
[Image]: https://www.constructionspecifier.com/wp-content/uploads/2020/11/mfah-glasstubes.jpg
[Image]: https://www.constructionspecifier.com/wp-content/uploads/2020/11/tpac_taipei_013.jpg
[Image]: https://www.constructionspecifier.com/wp-content/uploads/2020/11/10.jpg
[Image]: https://www.constructionspecifier.com/wp-content/uploads/2020/11/08_anma_artem_nancy_e3a5211.jpg
[Image]: https://www.constructionspecifier.com/wp-content/uploads/2020/11/Kaleidoscope-in-Tianshui-4.jpg
[Image]: https://www.constructionspecifier.com/wp-content/uploads/2020/11/Orange-laminate.jpg
[Image]: https://www.constructionspecifier.com/wp-content/uploads/2020/11/JCS-Headshot_022714.jpg
Source URL: https://www.constructionspecifier.com/color-play-how-to-use-hues-and-neutrals-in-architectural-design/
---