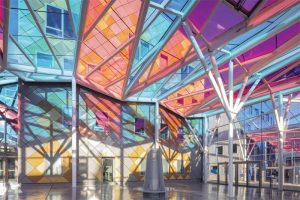 Here again is a structure relying on a single, neutral colorway to keep the focus on the dramatic architecture. The curves of the laminated glass echo the vibrancy of performing arts through light and movement. A twinkling effect occurs as light passes through the glass curves, making the exterior design a source of enjoyment for both theater-goers and the general public.
In addition to its strong visual impact, the gray, laminated, curved glass façade provides solar control performance and natural light ingress. Stunning color, structural support, solar control, and daylighting, all in one building material!
Inspired by nature
Another color trend that is going strong is color inspired by nature. Architects and designers of commercial offices, healthcare facilities, and schools aim to create calm, welcoming spaces that enhance work and creativity by simulating nature-scapes. This can be achieved with the use of colored laminated glass in earthy tones.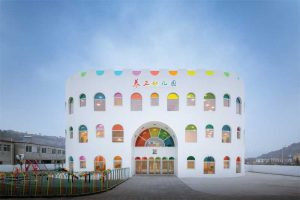 A recent example of this is CDB Arquitectura's integral renovation for the EADA Business School in Barcelona, Spain. The school's original exterior looked like any flat gray stone and glass office building. The school wanted an updated look that mirrored its local and international image, and provide improved accessibility to classrooms. This was achieved by building out a façade using vertical panels of sunny yellow and vibrant blue laminated glass.
All of the classrooms and study rooms have access to the new façade, creating a warm and inviting learning environment. The school's ecological and technological offices feature wood-colored work stations with vertical gardens, transitional carpeting to designated areas, and interior partitions of laminated, tempered-laminated, and curved-laminated glass in shades of green. For areas requiring more privacy, an additional white interlayer was added to the colored panes.
The school's renovation not only highlights the beauty of colored glass, but also showcases its versatility when combined with other processes, such as tempering, screenprinting, daylighting, security, and thermal.
Safety first
When it comes to protection from the elements, colored glass in the form of overhead glazing can be a beautiful experience. Colors sparkle with the sun, deepen with the night, and even dance under rain or melting snow.
For glass to be acceptable for use in overhead applications, it must retain glass shards if broken to prevent accidental injury or property damage. Laminated glass made with a durable plastic interlayer safeguards against high winds and human-made threats such as bomb blasts. It cannot be cut with glasscutters. It withstands blows from forced entry attempts made with bricks, hammers, or crowbars. If the glass cracks from impact, fragments remain attached to the interlayer and limit the risk of flying or falling glass debris.