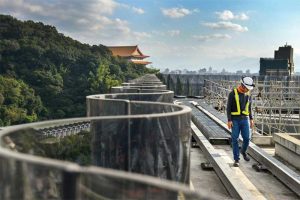 Controlling light
Daylight is dynamic and can change the brightness and color of art, making artificial lighting a frequent choice of museums. This is why cultural arts buildings tend to be devoid of glass walls and windows. However, Stephen Holl Architects had a different idea when designing the new addition of the Museum of Fine Arts Houston (MFAH), the Kinder Building, located in Houston, Texas.
Located in the heart of Houston's Museum District and surrounded by iconic buildings, including Mies van der Rohe's Museum building, the architects were tasked with creating a showpiece. The solution for the Kinder Building was to encase the entire structure in white glass—top to bottom, all around.
Using a system of laminated, translucent glass tubes on the outside walls of the buildings, they found a way to control the light coming in while protecting the priceless classical art inside. Punched openings in the weather wall are opaque and offer a different experience of light behind the glass tubes. Daylight also flows in from clerestory glazing, making the experience of visiting a naturally lit museum completely unique. At night, the glass tubes glow with a soft artificial light, which creates a luminous streetscape.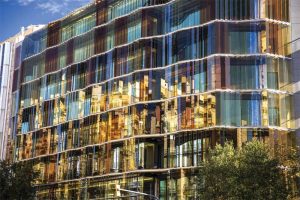 The most creative aspect of the design is the double-layer façade. The outer layer is a 'cool jacket façade,' made of approximately 1150 laminated, translucent glass tubes with a length of up to 6.5 m (21 ft). A steel substructure with an almost invisible structural glazing connection supports the tubes. The glass tubes have an acid-etched surface on the outside with four translucent white polyvinyl butyral (PVB) interlayers to precisely control the amount of daylight passing through them.
Laminated glazing help control solar heat gain and reduce associated cooling loads. The interlayer absorbs energy in the ultraviolet (UV), visible, and infrared wavelength spectrums and dissipates most of the absorbed energy to the outside. By blocking UV radiation, the interlayer system helps protect and preserve interior furnishings and fabrics. Additionally, PVB interlayers provide a high degree of safety. If a portion of the wall would be impacted, the glass would stay intact.
Structural drama
Architects and designers often select laminated glass for its structural properties. They can achieve incredible design flexibility while the structural PVB interlayers contribute to the loadbearing capabilities of the glass. In the case of the Taipei Performing Arts Centre (TPAC) in Taiwan, architect Rem Koolhaas from OMA determined (from past experience) corrugated glass requires smaller and fewer structural components for support.
The cultural center's design is in response to 'cookie-cutter theaters,' featuring the same combination of a larger auditorium, a smaller theater, and a black box. TPAC consists of three theaters that are attached to a central cube, which consolidates the stages, backstages, and support spaces into a single and efficient whole. Its exterior resembles a silver planet docking into a huge gray cube sheathed in S-shaped, laminated, curved glass.