Continuous insulation solutions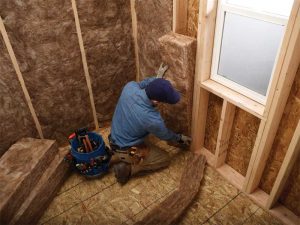 When installed correctly, all ci materials can help reduce the risk of condensation in the wall assembly, preventing mold, rot, and rust, thereby protecting the quality of indoor air. Additionally, foam plastic ci materials can provide multiple functions, including acting as air and water-resistive barriers (A/WRBs).
Foam sheathing
Foam sheathing, generally applied on the outside of materials like exterior gypsum sheathing, is commonly used in commercial projects. It acts as a blanket, thereby preventing thermal bridging and increasing energy efficiency.
When selecting an exterior foam sheathing product, it is pertinent to remember the length of cladding attachments and fasteners increase proportionately to thickness, so thinner sheathing may be preferred.
Exterior foam sheathing products fall into three categories—expanded and extruded polystyrene (EPS and XPS), both thermoplastics, and polyisocyanurate (ISO), a thermoset plastic. Each should be considered as a viable solution to achieve ci.
EPS
EPS is typically a white, closed-cell foam plastic material made from polystyrene resins with a relatively low R-value of 3.8 to 4.4 per inch. EPS is often used because of its low thermal conductivity and cost-effectiveness.
XPS
XPS is also a closed-cell, rigid insulation that is made from polystyrene resins. XPS has a higher R-value than EPS, of 5 per inch. Its thick, stiff nature makes it a suitable material for either above- or below-grade applications.
ISO
ISO foam sheathing insulation boards provide a continuous layer of insulation and have one of the highest R-values per inch, thanks to a uniform closed-cell foam core. It delivers R-values of 6 to 6.5 per inch.
Mineral wool semi-rigid board
A mineral wool semi-rigid board product is another option for achieving ci for a variety of reasons. Mineral wool ci boards deliver an R-value of 4.2 per inch. They are often used in a rainscreen system, where materials are installed over the primary air barrier and WRB, allowing for drainage between the exterior wall and cladding. Since mineral wool is open to water vapor, both exterior rain leakage and interior humidity can freely dry to the exterior. This is important in cold and wet climates such as the Pacific Northwest. Mineral wool ci also serves as a noncombustible insulation layer, useful to improve fire performance for tall buildings and structures built in Wildland Urban Interface (WUI) areas.
Closed-cell sprayed foam
Specifiers can also consider a closed-cell sprayed polyurethane foam product installed over the exterior envelope. This creates an air- and water-resistant barrier and acts as a final layer to achieving ci. It can generally be applied more thinly than other products, due to its high R-value (~R-7 per inch of thickness). This approach can allow for simpler installation of fasteners or cladding when compared to thicker materials.
Interior cavity insulation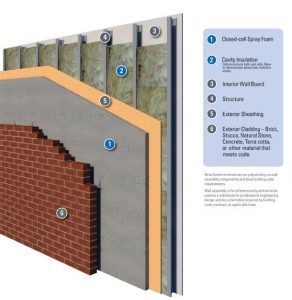 A well-insulated framed cavity is an important consideration in creating an optimally efficient structure by reducing heat transfer. There are three common insulation solutions for framed wall cavities in commercial buildings:
fiberglass;
mineral wool; and
sprayed foam.
Fiberglass batts and rolls
Fiberglass batts and rolls are often utilized because of their cost-effectiveness, noncombustible nature, and density options that can be easily tailored to specific project needs and corresponding R-value requirements. In the author's experience, using fiberglass—depending on the manufacturer—can also mean a reduced risk for settling or breaking down in the wall cavity, meaning the insulation maintains its effectiveness for decades. Fiberglass insulation reduces sound transmission through walls, ceilings, and floors, and provides effective resistance to heat transfer as well. The vapor retarder included on kraft-faced batts helps control moisture movement, thereby minimizing the risk of mold, rotting, or deterioration over time. Depending on density, R-value per inch of fiberglass batts and rolls generally ranges from 3.5 to 3.9 per inch.
Mineral wool insulation
Mineral wool insulation is made up of inorganic fibers of basalt and glass, both moisture resistant and durable. It is an effective sound absorber, reducing noise transfer through a wall, and can withstand heat better than other types of insulation, thereby protecting against the spread of fire. Mineral wool batts typically have an R-value of 4.2 per inch.
Sprayed foam insulation
Sprayed foam insulation is another solution for the interior cavity. With the highest R-value on the market, closed-cell sprayed foam also is an effective sealant for preventing the escape of air through gaps or leaks. It offers design flexibility due to its ability to expand in gaps and voids, even in hard-to-reach or oddly shaped places. Sprayed foam insulation solutions provide superior thermal energy efficiency and advanced air and sound control.
When tailoring an assembly for the wall cavity, a hybrid solution should also be considered in order to combine the benefits of one product with another. For example, fiberglass batts and rolls can be placed in the wall cavities over a layer of sprayed foam, which is used to seal gaps and insulate hard-to-reach places. This combines the economical, yet effective benefits of fiberglass, with the air sealing and vapor retarder benefits of sprayed foam.
Lastly, it is important to note ci cannot be achieved in the framing cavity but instead takes place on the exterior (or sometimes interior) part of the wall system, installed continuously across all framing.