Combining smart insulation solutions for high-performing buildings
by nithya_caleb | January 29, 2020 12:00 am
by J.R. Babineau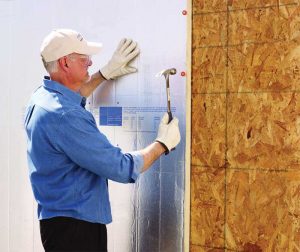 High-performing commercial buildings are becoming popular because of evolving codes and stricter standards for occupant safety, comfort, as well as energy efficiency. In addition to providing benefits like improved indoor air quality (IAQ), buildings designed and constructed with efficiency and performance in mind set the stage for financial and environmental sustainability because a stronger building envelope is created. One can achieve high-performing building envelopes by combining continuous and interior cavity insulation solutions.
At the outset, construction teams must evaluate the threat of thermal bridging—caused by materials with higher thermal conductivity—to wall systems and identify opportunities to create a more high-performing building envelope. This can be accomplished by using a variety of insulation materials.
Wall systems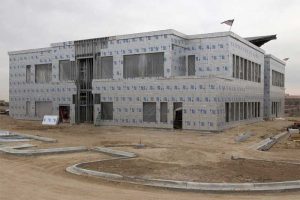 An ideal wall structure comprises two cooperative components—continuous insulation (ci) on the exterior of the wall and interior cavity insulation on the interior. Including interior insulation with the exterior insulation helps reduce sound transmission and airflow through walls, which provides a more comfortable space that can decrease the total project scope. The combination of interior cavity insulation and exterior continuous insulation (ci) is often also the most cost-effective approach. Applying only exterior insulation, for example, can make for a complex and expensive project when factoring in other components such as windows, doors, and cladding attachment systems.
Continuous insulation, as defined by the American Society of Heating, Refrigerating and Air-conditioning Engineers (ASHRAE) 90.1, Energy Standard for Buildings Except Low-Rise Residential Buildings, is insulation that is continuous across all structural members without thermal bridges other than fasteners and service openings. It can be installed on the interior or exterior and should be an integral component to any opaque surface of the building envelope. Installing the insulation on the interior is typical for projects without framing which includes masonry, concrete, and pre-engineered metal buildings.
Interior cavity insulation (i.e. insulation installed in the interior space between structural members) is another element to consider for maximizing the building's energy efficiency.
This two-pronged approach minimizes thermal bridging and maximizes performance by leveraging the unique benefits of both cavity insulation and continuous insulation. While there is no one-size-fits-all approach, a variety of material options are available.
The building envelope of a high-performance structure effectively manages heat flow, air leakage, and rain/moisture intrusion. When creating a high-performing system, it is advisable to first consider all relevant building code requirements for insulating commercial buildings. Both the International Energy Conservation Code (IECC) and ASHRAE 90.1 require minimum R-values, sealing against air leakage, and ci in building envelopes. These R-value minimums vary based on geographic location, facility occupancy, and the building material (masonry, wood, steel, or metal framing). Both documents also prescribe how much insulation is required for above- and below-grade walls, roofs, and floors in each of the eight U.S. climate zones. It is important to always refer to the correct code version for a given jurisdiction. In newer editions of the codes, climate zones have shifted in some parts of the country, and some insulation requirements have changed as well.
Secondly, consider the climate zone and its impact on the required R-value. As the zone number increases, the climate gets colder, and most of the required insulation R-values also increases. R-value stands for resistance to heat flow—the higher the R-value, the greater the insulating power and resistance to heat flow. The climate zone determines whether the solution will need to protect more against hot, cold, or mixed climates. For example, climate zone 6 (e.g. Minneapolis) tends to be cold, and therefore, a higher R-value is required for both cavity and ci to help resist loss of heat in the winter.
Lastly, bear in mind the types of walls and their functions. A successful wall system manages heat, air, and moisture leakage, and different building materials can react to these elements at varying degrees. Metals are good conductors of heat, and may cause thermal bridging, but they are also less susceptible to burning in the event of a fire or rotting due to moisture issues. Conversely, wood is more susceptible to moisture damage, but has significantly lower heat conductivity than steel or concrete. The overall design of all wall systems, from cladding and structure to where the various control layers will be (thermal, air, and water), should be thought through and decided in the planning stage of a project.
Careful consideration of these components early in the planning process will impact whether or not the insulation solution meets the goals for energy efficiency and overall building performance.
Continuous insulation solutions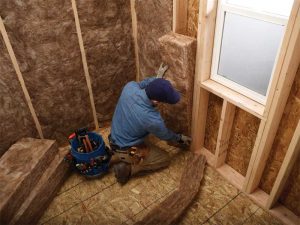 When installed correctly, all ci materials can help reduce the risk of condensation in the wall assembly, preventing mold, rot, and rust, thereby protecting the quality of indoor air. Additionally, foam plastic ci materials can provide multiple functions, including acting as air and water-resistive barriers (A/WRBs).
Foam sheathing
Foam sheathing, generally applied on the outside of materials like exterior gypsum sheathing, is commonly used in commercial projects. It acts as a blanket, thereby preventing thermal bridging and increasing energy efficiency.
When selecting an exterior foam sheathing product, it is pertinent to remember the length of cladding attachments and fasteners increase proportionately to thickness, so thinner sheathing may be preferred.
Exterior foam sheathing products fall into three categories—expanded and extruded polystyrene (EPS and XPS), both thermoplastics, and polyisocyanurate (ISO), a thermoset plastic. Each should be considered as a viable solution to achieve ci.
EPS
EPS[4] is typically a white, closed-cell foam plastic material made from polystyrene resins with a relatively low R-value of 3.8 to 4.4 per inch. EPS is often used because of its low thermal conductivity and cost-effectiveness.
XPS
XPS is also a closed-cell, rigid insulation that is made from polystyrene resins. XPS has a higher R-value than EPS, of 5 per inch. Its thick, stiff nature makes it a suitable material for either above- or below-grade applications.
ISO
ISO foam sheathing insulation boards provide a continuous layer of insulation and have one of the highest R-values per inch, thanks to a uniform closed-cell foam core. It delivers R-values of 6 to 6.5 per inch.
Mineral wool semi-rigid board
A mineral wool semi-rigid board product is another option for achieving ci for a variety of reasons. Mineral wool ci boards deliver an R-value of 4.2 per inch. They are often used in a rainscreen system, where materials are installed over the primary air barrier and WRB, allowing for drainage between the exterior wall and cladding. Since mineral wool is open to water vapor, both exterior rain leakage and interior humidity can freely dry to the exterior. This is important in cold and wet climates such as the Pacific Northwest. Mineral wool ci also serves as a noncombustible insulation layer, useful to improve fire performance for tall buildings and structures built in Wildland Urban Interface (WUI) areas.
Closed-cell sprayed foam
Specifiers can also consider a closed-cell sprayed polyurethane foam product installed over the exterior envelope. This creates an air- and water-resistant barrier and acts as a final layer to achieving ci. It can generally be applied more thinly than other products, due to its high R-value (~R-7 per inch of thickness). This approach can allow for simpler installation of fasteners or cladding when compared to thicker materials.
Interior cavity insulation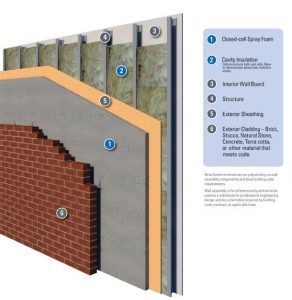 A well-insulated framed cavity is an important consideration in creating an optimally efficient structure by reducing heat transfer. There are three common insulation solutions for framed wall cavities in commercial buildings:
fiberglass;
mineral wool; and
sprayed foam.
Fiberglass batts and rolls
Fiberglass batts and rolls are often utilized because of their cost-effectiveness, noncombustible nature, and density options that can be easily tailored to specific project needs and corresponding R-value requirements. In the author's experience, using fiberglass—depending on the manufacturer—can also mean a reduced risk for settling or breaking down in the wall cavity, meaning the insulation maintains its effectiveness for decades. Fiberglass insulation reduces sound transmission through walls, ceilings, and floors, and provides effective resistance to heat transfer as well. The vapor retarder included on kraft-faced batts helps control moisture movement, thereby minimizing the risk of mold, rotting, or deterioration over time. Depending on density, R-value per inch of fiberglass batts and rolls generally ranges from 3.5 to 3.9 per inch.
Mineral wool insulation
Mineral wool insulation is made up of inorganic fibers of basalt and glass, both moisture resistant and durable. It is an effective sound absorber, reducing noise transfer through a wall, and can withstand heat better than other types of insulation, thereby protecting against the spread of fire. Mineral wool batts typically have an R-value of 4.2 per inch.
Sprayed foam insulation
Sprayed foam insulation is another solution for the interior cavity. With the highest R-value on the market, closed-cell sprayed foam also is an effective sealant for preventing the escape of air through gaps or leaks. It offers design flexibility due to its ability to expand in gaps and voids, even in hard-to-reach or oddly shaped places. Sprayed foam insulation solutions provide superior thermal energy efficiency and advanced air and sound control.
When tailoring an assembly for the wall cavity, a hybrid solution should also be considered in order to combine the benefits of one product with another. For example, fiberglass batts and rolls can be placed in the wall cavities over a layer of sprayed foam, which is used to seal gaps and insulate hard-to-reach places. This combines the economical, yet effective benefits of fiberglass, with the air sealing and vapor retarder benefits of sprayed foam.
Lastly, it is important to note ci cannot be achieved in the framing cavity but instead takes place on the exterior (or sometimes interior) part of the wall system, installed continuously across all framing.
Wall systems in action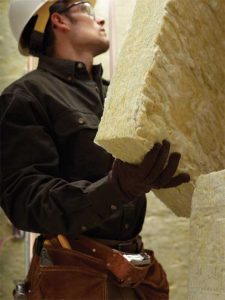 There are many different variations to choose from when combining ci and interior cavity insulation. Here are three successful options to consider in a project to combine ci and interior cavity insulation solutions to create a high-performing building.
Mineral wool rainscreen and fiberglass batts
A mineral wool rainscreen on the exterior and fiberglass in the interior creates a combination that leverages the moisture and thermal controls and noncombustible elements of the mineral wool rainscreen and the economic benefits of fiberglass. The cost of fiberglass batts ranges widely based on manufacturer, location, and R-value, but is generally more economical than other insulation types. The two complement one another by improving acoustics, conserving energy, and providing a water vapor-open assembly, thus allowing the wall to 'breathe' and dry if it becomes wet. Allowing the wall system to dry to the interior or the exterior helps prevent moisture issues and improves IAQ.
ISO and fiberglass batts
Using ISO as the ci product creates a water-resistive and vapor and air barrier in the exterior wall system
—this is often rounded out by the more cost-effective fiberglass in the interior cavity. This combination is frequently used, since the ISO foam can act as the air barrier and WRB in addition to delivering ci. The vapor barrier provided by the ISO means it should be specified to be thick enough so an interior vapor retarder is not needed in colder climates.
This specific combination was recently used in a Colorado medical building. The project team wanted to create a building dedicated to environmental health that met the current IECC standards for energy efficiency, which require certain R-values for insulation used in a wood-framed wall, ceiling, or mass wall. A foam sheathing solution on the exterior of the wall assembly and R-13 batts installed in the interior wall cavities delivered environmentally friendly results, proved cost effective, and enabled fast installation.
Closed-cell sprayed foam and mineral wool
A third option frequently used in highly efficient buildings is closed-cell sprayed foam with mineral wool. Closed-cell sprayed foam serves as the ci solution and air seals the structure and creates a water drainage system. Mineral wool serves as the thermal and acoustical insulation in the framed wall cavities. Like thermal properties, acoustic properties of the mineral wool are reduced by the framing.
Wall systems play an important role in achieving optimal energy efficiency and providing long-lasting durability for buildings. When a high-performing building envelope is created, the system successfully manages heat, moisture, rain, and airflow, improving IAQ. This allows the building to use less energy, ultimately impacting heating and cooling costs. When designing exterior walls, an appreciation and understanding of how different products can complement one another and create a cohesive system can lead to a stronger envelope, save money, and meet project goals.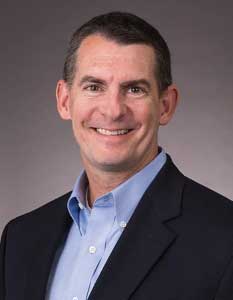 [7]J.R. Babineau is a research engineer and the principal building scientist for Johns Manville. For more than 20 years, he has been involved in research and development of building products, as well as providing education and consultation on building systems, with an emphasis on health, air, moisture, noise, and energy efficiency. He can be reached via e-mail at francis.babineau@jm.com[8].
Endnotes:
[Image]: https://www.constructionspecifier.com/wp-content/uploads/2020/01/JM-AP-Foil-Install_B.jpg
[Image]: https://www.constructionspecifier.com/wp-content/uploads/2020/01/CS-photo-4.jpg
[Image]: https://www.constructionspecifier.com/wp-content/uploads/2020/01/CS-photo-2.jpg
EPS: http://www.energy.gov/sites/prod/files/guide_to_home_insulation.pdf
[Image]: https://www.constructionspecifier.com/wp-content/uploads/2020/01/Walls.jpg
[Image]: https://www.constructionspecifier.com/wp-content/uploads/2020/01/Mineral-Wool-Installation.jpg
[Image]: https://www.constructionspecifier.com/wp-content/uploads/2020/01/JR-Babineau-1-1.jpg
francis.babineau@jm.com: mailto:francis.babineau@jm.com
Source URL: https://www.constructionspecifier.com/combining-smart-insulation-solutions-for-high-performing-buildings/
---