Sacramento's Hotel Senator restoration reaches completion
by brittney_cutler | January 3, 2022 3:25 pm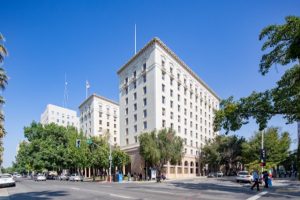 Sacramento's historic Hotel Senator completed a wide-ranging exterior restoration project as of last month.
Listed on the National Register of Historic Places, the former Hotel Senator that reopened in 1983 as the 10-story Senator Hotel Office Building for lobbyists and California government officials, is prominently located across from the State Capitol. According to architect Melisa Gaudreau, AIA, associate principal and director of architect firm Page & Turnbull's Sacramento office, the 16,723 m2 (180,000 sf) building first opened in 1924 and stands as a valuable example of the area's renaissance revival-style architecture.
Rejuvenating the landmark's cement plaster façade with precast concrete detailing—along with its wood windows and metal cornice—the project team led by Page & Turnbull and contractor Pullman undertook a renovation effort for the building's owner, Seagate Properties. The work addressed deterioration of many visible elements and greatly improved the weather resistance of the existing exterior envelope while maintaining its historic wood windows.
Additionally, the owner Seagate has invested in office improvements in vacant tenant spaces and other upgrades in the lobby and a new outdoor patio, as well as adding a new conference center, bike storage facility, showers and a fitness center.
Page & Turnbull's architecture and preservation practice is supported by offices in San Francisco, Los Angeles, San Jose and Sacramento, where Gaudreau is available as an expert resource in historic rehabilitation. Her team's project experience includes work at the California State Capitol, Badger Pass Ski Lodge and White Wolf Lodge in Yosemite National Park, the award-winning Leland Stanford Mansion and a Queen Anne-style residence, and the conversion of the Capitol Park Hotel into affordable housing for the formerly homeless.
Endnotes:
[Image]: https://www.constructionspecifier.com/wp-content/uploads/2022/01/BC_Senator_FF.jpg
Source URL: https://www.constructionspecifier.com/completion-of-exterior-restoration-of-sacramentos-the-senator/
---