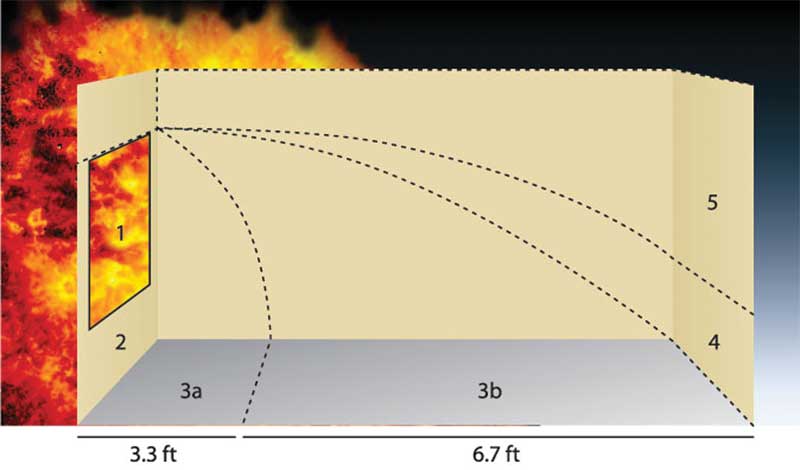 Aluminum door components
The extruded aluminum components of commercial entrance systems include stiles (i.e. a door's vertical members), rails (i.e. horizontal members), and framing. A single door may be called a leaf, and two doors together are called a pair.
The intersection of the rails and stiles creates a corner that may be:
constructed with tie rods and shear blocks, as well as corner blocks;
welded; or
produced via a combination of methods.
Glass stops in the rails and stiles hold the glass in place.
The framing surrounding an operable door includes a header across the top and jambs along the sides. The hardware attached to these components allows the doors to open, close, and lock. Thresholds are installed at the bottom of a doorframe to keep water and weather out, and to make it easier to transition from one side to the other.
Doors have rails that run between the stiles. Typically, the bottom rail is 101.6 to 254 mm (4 to 10 in.) high and the stiles are 50.8 to 152.4 mm (2 to 6 in.) wide, with glass stops supporting thicknesses of 6.4 to 25.4 mm (¼ to 1 in.). The most common configurations are generally established as standard bundled offerings.
Modifications to the standard templates can feature a variety of rail and stile sizes and support non-standard glass thicknesses. Medium and wide vertical stiles also provide for the use of many non-standard panic exit devices common to public and educational buildings. Modified top rails increase the face dimension of the extruded member to accommodate a door closer or other hardware item, and modified bottom rails increase the height for appearance or to prevent foot contact with the glass. The typical height of the top rail matches the width of the vertical stiles, while the typical height of the bottom rail is larger.
Modified doors may also add a vertical intermediate stile or a horizontal mid-rail. Some manufacturers include a 'blank door' in their modified offerings, where the glazing contractor opts to install the hardware of its choice.
Custom doors by definition are specialized beyond the modified entrance systems. One example can be heavy-wall institutional doors with 50.8-mm (2-in.) thick profiles, 0.5-mm (3/16-in.) thick extrusion walls, and face dimensions of 76.2 to 152.4 mm (3 to 6 in.). Others can include blast-mitigating or hurricane-impact-resistant doors, or those with hardware not provided by the manufacturer as standard.
With numerous options available, selection guides may be helpful to determine the optimal door to fit a project's needs (Figure 1).