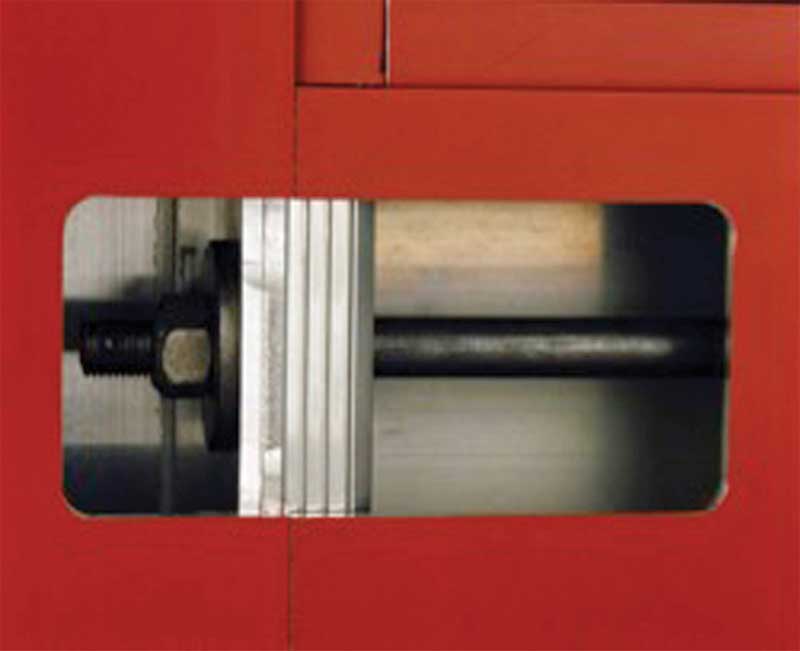 Hardware requirements and specifications
Manufacturers of aluminum doors offer inexpensive options for push bars, pull handles, closers, hinges, pivots, and locks. Assisted operators and accessible thresholds may also be considered part of the standard offering to comply with the Americans with Disabilities Act (ADA). The hardware is typically made from aluminum, with the exception of mortised hinges.
The hardware should provide acceptable service under light to moderate usage for a standard warranty period, usually of two years. Hardware suppliers test for durability per the A156 Series Standards set by the American National Standards Institute (ANSI) and the Builders Hardware Manufacturers Association (BHMA).
Hardware for modified doors may include:
push bars and pull handles mounted back-to-back or in special locations;
continuous hinges; and
intermediate hinges and pivots for doors larger or heavier than is standard.
Beyond standard deadbolt and panic exit devices, modified locking mechanisms are offered as latch locks, hook and short throw bolts, thumb turns, and electric strikes and panic devices. Non-standard panic devices may reduce the clear opening of a door, making it non-compliant with ADA.
Electric/magnetic card readers, other keyless entry systems, or electric hardware requiring a power transfer from the frame to the door are also available on many standard, modified, and custom doors. Special-order push/pulls, hinging, or anything else not typically supplied by the manufacturer will also be part of a custom door.
If customization is essential, it is best to ask for an overview of the door manufacturer's capabilities and services. Some may only prepare the door to accept the custom hardware. Others will also provide installation of the hardware.
Frame types and components
Standard door-leaf dimensions are generally 0.9 x 2.1 or 1.1 x 2.1 m (3 x 7 or 3.5 x 7 ft). The framing dimensions add 44.5 or 25.4 mm (1¾ or 2 in.) vertically and 88.9 or 101.6 mm (3½ or 4 in.) horizontally. To accommodate transom units above the doors, frames may extend up to 3 m (10 ft) tall.
Profiles on standard frames are 44.5 x 114.3 or 50.8 x 114.3 mm (1¾ x 4½ or
2 x 4½ in.) for 25.4-mm (1-in.) thick glass. Some manufacturers have also started offering 50.8 x 165.1-mm (2 x 6½-in.) door profiles as standard. Pile weathering strips are used at the door stops of standard products with optional sweeps at the bottom rail.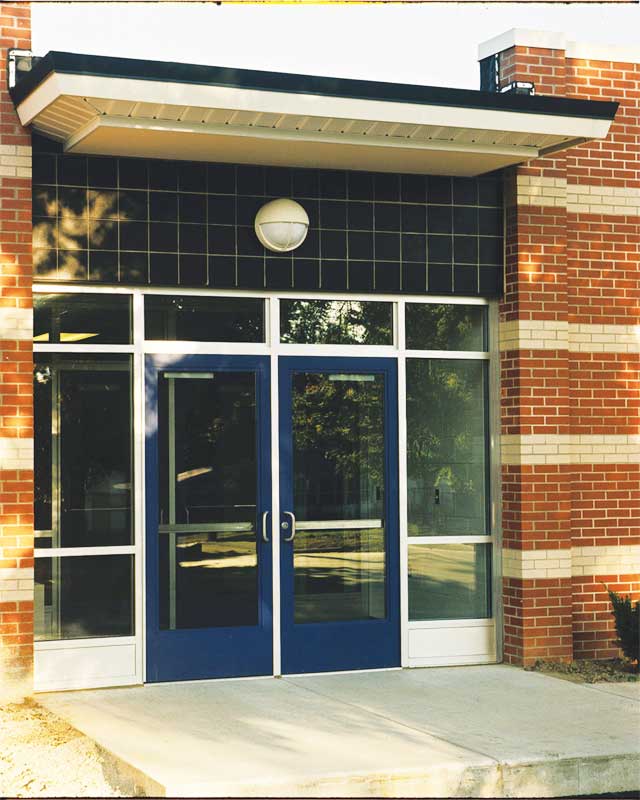 Modified frames include larger sizes—up to 1.2 x 2.7 m (4 x 9 ft) for a single door, applicable for reveal, flush-with-frame, and non-standard frame configurations (e.g. continuous headers and banks of doors). Transom frames on modified doors may reach up to 7 m (24 ft) in height.
Custom frames include subframes added to a curtain wall system for hardware attachment and leveling, as well as frames that have been engineered and fabricated for thermal performance, blast mitigation, and hurricane impact resistance.
Performance expectations and requirements
Standard doors should be expected to successfully pass industry testing for:
static air infiltration per ASTM E283, Test Method for Determining Rate of Airflow Through Exterior Window, Curtain Walls, and Doors Under Specified Pressure Differences Across the Specimen;
structural performance per ASTM E330, Test Method for Structural Performance of Exterior Windows, Curtain Walls, and Doors by Uniform Static Air Pressure Difference;
water penetration per ASTM E331, Test Method for Water Penetration of Exterior Windows, Curtain Walls, and Doors by Uniform Static Air Pressure Difference; and
breakaway forces per ASTM E2068, Standard Test Method to Determine the Operating and Breakaway Forces of Sliding Windows and Doors.
Thermal improvement
Most manufacturers classify thermally improved doors and frame extrusions as modified doors. To maintain the door's structural integrity while also reducing the transfer of heat through the aluminum components, a thermal break or barrier between the extruded profile's interior and exterior surfaces is necessary. There are two principal types of thermal barriers used in North America:
polyurethane poured and debridged; and
polyamide insulating strut.
Thermal doors can be tested and expected to conform to:
AAMA 507-15, Standard Practice for Determining the Thermal Performance Characteristics of Fenestration Systems in Commercial Buildings;
AAMA 1503-09, Voluntary Test Method for Thermal Transmittance and Condensation Resistance of Windows, Doors, and Glazed Wall Sections; and
National Fenestration Rating Council (NFRC) 102-2010, Procedure for Measuring the Steady-state Thermal Transmittance of Fenestration Systems.
In addition to supporting energy-efficiency goals and comfortable interior temperatures for occupants, thermally insulated door and frame extrusion components can also reduce the occurrence of both condensation and frost in cold climates.