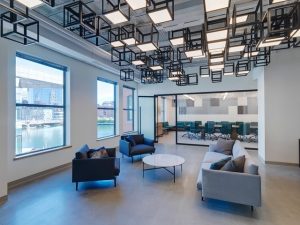 Boston-based tech firm Quickbase set out to design a new headquarters just as the pandemic began. Now, the company occupies a brand-inspired, 3902 m2 (42,000 sf) downtown base and satellite office in nearby suburban Waltham, Massachusetts.
Quickbase consulted with architectural firm Dyer Brown to select an optimal workplace experience software to assist employees and their managers with adapting. The company also opted for Dyer Brown's other integrated service offerings, including environmental graphic design work, furniture strategy and selection, and an overall workplace strategy consultation to optimize the approach for the Quickbase culture and workflow.
With the new headquarters reflecting a brand overhaul and a change for Quickbase's 300-plus Boston-based employees, the tech company's decision to opt for Dyer Brown's suite of integrated services represents a commitment to maximizing return on investment.
"Especially for companies over 100 employees in size, it is essential to have a clear organizational strategy for how to prepare staff and management for those big changes. Without that preparation, even well-conceived new workplace approaches can fall short," says Ashley Dunn, AIA, associate principal and director of workplace.