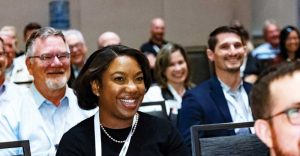 The 2023 National Conference Agenda is Now Available
Get ready to become a master of change at the CSI National Conference 2023: October 4 to 6, in Minneapolis, Minnesota.
The exciting, timely, action-packed agenda is taking place. Get ready for an array of education sessions to choose from as they focus on "mastering change" in a rapidly evolving industry, keynotes, invaluable networking opportunities,
and a lot of fun.
The following are just a few topics attendees will see at the conference:
Technology & innovation
Unlocking the Metaverse: What It Means to You
Cultivating Collaboration in a Changing Industry
Sustainability & decarbonization
Green Roof Design: A Sustainable Approach to Waterproofing
Decarbonizing Concrete Now: Reports from the Field
Project delivery & specifications
What Every Architect Should Include in Drawings and Specifications
Evolving Project Delivery: Mastering Change with AIA Contract Documents
Check out the entire education lineup at www.csiresources.org/2023nationalconference/schedule/october-4.