CSI news and notes
by arslan_ahmed | July 21, 2023 1:25 pm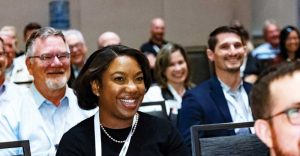 [1]The 2023 National Conference Agenda is Now Available
Get ready to become a master of change at the CSI National Conference 2023: October 4 to 6, in Minneapolis, Minnesota.
The exciting, timely, action-packed agenda is taking place. Get ready for an array of education sessions to choose from as they focus on "mastering change" in a rapidly evolving industry, keynotes, invaluable networking opportunities,
and a lot of fun.
The following are just a few topics attendees will see at the conference:
Technology & innovation
Unlocking the Metaverse: What It Means to You
Cultivating Collaboration in a Changing Industry
Sustainability & decarbonization
Green Roof Design: A Sustainable Approach to Waterproofing
Decarbonizing Concrete Now: Reports from the Field
Project delivery & specifications
What Every Architect Should Include in Drawings and Specifications
Evolving Project Delivery: Mastering Change with AIA Contract Documents
Check out the entire education lineup at www.csiresources.org/2023nationalconference/schedule/october-4[2].
New Opportunities to Get Even Smarter with the CSI Learning Library
The CSI Learning Library is a key resource, featuring courses to expand one's knowledge and expertise.
Three new courses on imminent industry topics are now available in the CSI Learning Library thanks to a partnership with the PPG Foundation, the grantmaking arm of American coatings company PPG Industries.
These courses can be purchased individually for $50, or as a bundle at a discounted rate of $100.
Confident Presenting
Paints and Coatings 101
Technical Color
In addition to these new courses, the Learning Library also features a number of individual courses for a customizable learning experience.
Some of the recently most watched include:
How to Specify & Design Firestop
Building Resilient Structures Using Insulated Concrete Forms (ICFs)
High Performance Fluoropolymer Powder Coatings—Coraflon Platinum Powder
Visit www.pathlms.com/csi/courses[3] to explore all the available courses.
Meet the New CSI Board of Directors
CSI is pleased to announce the results of its 2023 national election.
The following individuals have been elected to the CSI board of directors, effective July 1, 2023.
Kevin Wang, CSI, CCS, CDT – Director-at-large
Thomas A. Lanzelotti, CSI, CDT – Director, Northeast Region
Georgia Spenser, CSI, CDT – Director, Northwest Region
Lynsey Hankins, CSI – Director, South Central Region
These individuals join the incumbent board members to form the FY2024 CSI Board of Directors:
Arthur "Cam" Featherstonhaugh IV, CSI, CDT – Board chair
William Sundquist, FCSI – Chair-elect
Jori Smith, CSI, CDT – Secretary
Michael Young, FCSI, CCCA, CCS, CDT – Treasurer
Jarrod Mann, PE, CSI, CDT – Director-at-large
Morayma Bittle, CSI, CCS, CDT – Director, Southwest Region
Ivette Ramirez Bruns, CSI, CCS, CDT – Director, Great Lakes Region
Patrick Comerford, CSI, CCPR, CDT – Director, West Region
Amy Hockett, CSI, CDT – Director, Southeast Region
Betina Latiker, CSI, CCS, CDT – Director, Gulf States Region
Robert Vaughn, CSI – Director, Middle Atlantic Region
Andrea Zawodny, CSI, CCS, CDT – Director, North Central Region
Mark Dorsey, FASAE, CAE – CEO (Ex-Officio)
CSI is thankful for every member who demonstrated interest in joining the board of directors by submitting their names for consideration. CSI also thanks all members who participated in the organization's election by voting.
Endnotes:
[Image]: https://www.constructionspecifier.com/wp-content/uploads/2023/07/CSI_Conference.jpg
www.csiresources.org/2023nationalconference/schedule/october-4: https://www.csiresources.org/2023nationalconference/schedule/october-4
www.pathlms.com/csi/courses: https://www.pathlms.com/csi/courses
Source URL: https://www.constructionspecifier.com/csi-feb-news-n-notes-2-2/
---