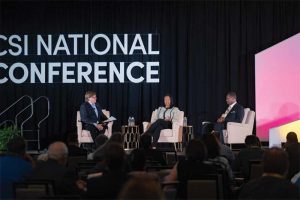 Last Chance to Register for the CSI National Conference in Denver
Do not wait! There is still time to register! The CSI National Conference in Denver, Colorado, October 12-14 will offer a must-attend opportunity to identify, analyze, and discuss the trends and events shaping the architecture, engineering, construction, and owner (AECO) industry, while also getting a first look at the topics and technology that will define what is next.
This year's conference, Future Ready 2022—Projects and Practice in a Changing Industry, is being held at the Hyatt Regency in Downton Denver.
Today, the construction industry is in a state of rapid technological growth and change. Yet, labor shortages, rising material costs, shorter production schedules, and supply chain issues leave many project teams feeling overwhelmed and uncertain of what the future holds. Designed to support industry professionals through these challenges, the 2022 CSI National Conference will help attendees position themselves for growth in the years ahead. Attendees will get the opportunity to hear from the experts and expand their network as they learn how to future-proof their projects. Register now at this link.