CSI news and notes
by arslan_ahmed | September 16, 2022 11:43 am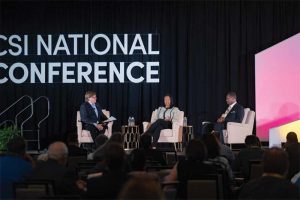 Last Chance to Register for the CSI National Conference in Denver
Do not wait! There is still time to register! The CSI National Conference in Denver, Colorado, October 12-14 will offer a must-attend opportunity to identify, analyze, and discuss the trends and events shaping the architecture, engineering, construction, and owner (AECO) industry, while also getting a first look at the topics and technology that will define what is next.
This year's conference, Future Ready 2022—Projects and Practice in a Changing Industry, is being held at the Hyatt Regency in Downton Denver.
Today, the construction industry is in a state of rapid technological growth and change. Yet, labor shortages, rising material costs, shorter production schedules, and supply chain issues leave many project teams feeling overwhelmed and uncertain of what the future holds. Designed to support industry professionals through these challenges, the 2022 CSI National Conference will help attendees position themselves for growth in the years ahead. Attendees will get the opportunity to hear from the experts and expand their network as they learn how to future-proof their projects. Register now at this link[2].
CSIResources.org Delivers Speedy, Precise Results with Every Click
Searching for information on the web is a drag. Everyone has been there… trying to find something, but nothing relevant seems to surface right away. Then, it is back to the search bar, trying some different keywords or phrases and clicking a few links before finally finding what is needed, but not before wasting more time
than expected. People have become savvy internet researchers these days and know how to find information. That is why the search functionality is
so important to any website.
Well, the CSI team fixed that on CSIResources.org. So, no more searching and digging. Visitors can now search across multiple CSI resources and pages in one click. The site features improved search functionality to return better, more relevant, complete results. So, when looking for something specific visitors can be rest assured, they will find it. The best part is it is fast—no more wasting time searching as visitors browsing the CSIResources.org page will find what they need in no time flat.
Here are a few search tips:
In the top navigation, use the "Sort by Filter" to narrow the search based on document relevance, most recent, or least recent.
On the left navigation, visitors can: Narrow content search results by choosing a category such as blogs, community discussion threads, events, etc. Or use the additional filters below the category type provided to further fine-tune the query, for example, by year.
What Do You Think? How Are You and Your Team Managing Your Post-pandemic-work Schedule
The CSI Community Connect Forum is the go-to resource to connect with other construction industry professionals in real-time, keep up on current events, and even share interesting information about oneself.
In a recent discussion, forum members were asked, "How are you and your team managing your office schedule following the COVID-19 lockdown? Are employees being asked to return to work? Is work-at-home still an option? How has the pandemic impacted the way you and your colleagues get the job done now and in the future?"
"Nationally, we have gone to three days in the office (Tuesday, Wednesday, Thursday) with Monday and Friday being work at home days, or in the office if you prefer," said Anne Whitacre FCSI, CCS, LEED AP. "People are allowed slightly flexible schedules to make commuting easier, at least in the San Francisco office where I work. We are masked according to the protocol of the office location, or masked if there have been three COVID-19 cases in the office within the preceding 10 days.
"Some people are permitted to work remotely full time; we found some staff moved during the past two years and since most of our project meetings are virtual, your location may not matter that much. We also started spreading the work between offices and most meetings have a virtual component anyway—because of where staff is located at the time."
Endnotes:
[Image]: https://www.constructionspecifier.com/wp-content/uploads/2022/09/2021-conf-keynotes.jpg
link: http://www.csiresources.org/2022nationalconference/register/price-list
Source URL: https://www.constructionspecifier.com/csi-news-and-notes-5/
---