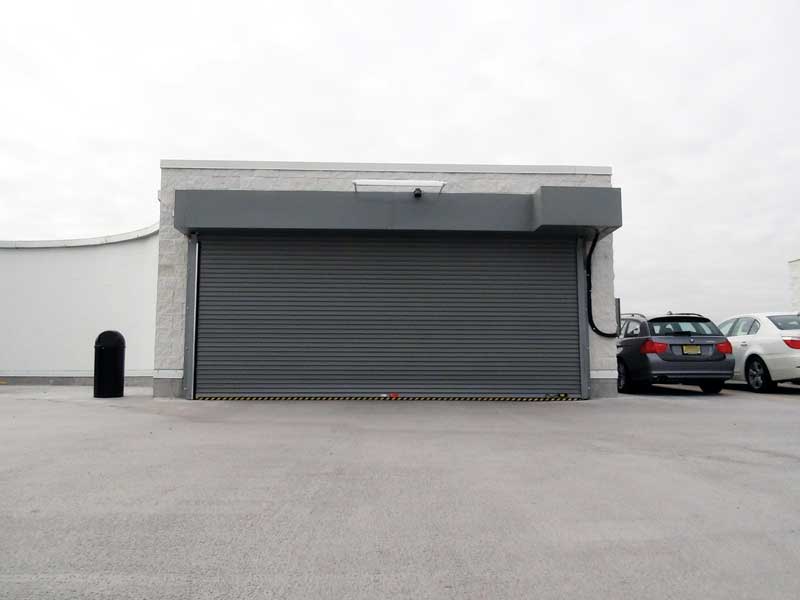 Contributing to LEED v4 points
High-performance insulated doors provide many innovative sustainability fundamentals for commercial building closure solutions. These contribute to greener, more energy-efficient, high-performance construction, as well as greater occupant health and comfort. Some of these attributes and benefits can include:
greater thermal resistance value (R-value);
highly reduced energy costs due to decreased air infiltration;
a chlorofluorocarbon (CFC)-free insulating process;
use of recycled content (such as for the curtain, bottom bar, hood, guides, shaft, and brackets);
durability;
a lack of volatile organic compounds (VOCs); and
specified wind load durability.
These doors can also contribute to earning LEED credit points. While no one product or material can earn LEED credits, insulated rolling doors can help development teams earn points in the following five categories when implemented as part of an integrated design and construction strategy:
Energy and Atmosphere (EA) Credit, Optimize Energy Performance (up to 20 points);
Materials and Resources (MR) Credit, Building Life Cycle Impact Reduction (up to six points);
Indoor Environmental Quality (EQ) Credit, Low-emitting Materials (up to three points);
Innovation Credit, Innovation (up to five points); and
Regional Priority Credits (RPCs).
For RPCs, choosing an insulated rolling door as an innovative construction envelope element could contribute to the achievement of up to four credit points addressing geographically specific environmental, social equity, and public health priorities. Recognizing a project location's priority environmental issues and addressing them through design, construction, and operation choices makes the use of an insulated rolling door a responsible choice.
When is it appropriate to install a high-performance door?
Before deciding between a standard rolling door and a high-performance one, it is important to ask yourself and clients these seven questions, easily remembered by the acronym PERFORMS.
Productivity: Is passage through a secure opening a key success factor in the productivity of the client's business?
When a door component breaks due to heavy use, the opening is often out of commission for hours or even days while the parts are manufactured, shipped, and installed. Architects must understand how the doors will contribute to productivity and affect their clients' businesses. If they are in an area that requires closure after every pass-though, or cannot stay open or closed for days at a time without a loss of productivity, then a high-performance product should be considered for the application.
Environment: Does the client need to control the temperature of an environment, even while exposing it to the elements on a regular basis?
If the building is in a very warm or cold climate, but requires frequent outside access, ensuring the door can open and close quickly is paramount to maintaining the interior temperature. In cases with truly extreme weather, one should consider an insulated high-performance roll-up door to cut down on air exchange during cycling as well as air leakage around the outside edges of the door.
Reliability: If the door cannot operate, will the client lose money?
Rolling doors are often installed in commercial, manufacturing, or similar applications. In these scenarios, the door is a vital gateway to allow materials in or goods out. It is the way deadlines are met, contracts are fulfilled, and business is won. No clients want to extend lead time because they can only successfully get products out of one door while the other three doors are broken, boarded up, and inoperable. Longer lead times can encourage their customers to look elsewhere to get products, meaning lost revenue for the commercial enterprise. Time truly is money, and if a roll-up door is a vital part of that equation,
a high-performance product with low maintenance requirements can be a good solution.