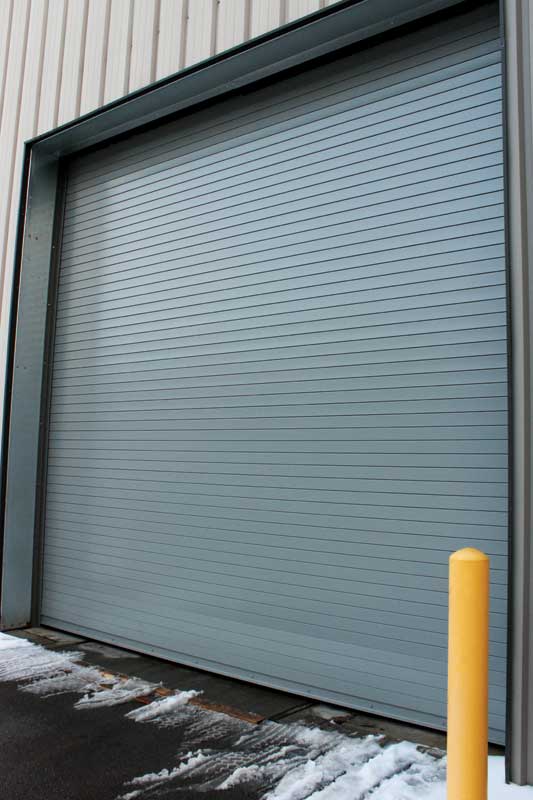 Frequency: Will daily cycles be in a short, peak time rather than spread out evenly throughout the day?
Total cycles matter, but timing matters more. For instance, let us assume a client needs a door that must open to accommodate 100 product deliveries throughout the day. In this scenario, the secure building requires showing proof of clearance to enter and closes after each pass-through. There is only one way to enter, and the vast majority of deliveries occur between 9 to 11 a.m. and 3 to 5 p.m. This means the door will have roughly 200 daily cycles, but the vast majority will be in two separate two-hour windows. The specified door must be able to handle the high use in the short window of time without breaking down or wearing out.
Operating speed: Does the client need the door to open as quickly as possible?
Total opening time can make a huge difference in an operation. If the placement of the activation device is factored into door speed, it is possible to calculate exactly how to make the opening experience flawless:
Vehicle Speed x Door Opening Time = Activation Device Distance From Door
For example, an average fork truck drives at a speed of 2 m (6 ft) per second. The door it drives through opens in five seconds. Therefore, the activation device should be placed 9 m (30 ft) away from the door to ensure a smooth experience.
Routine traffic: Is the traffic going through the opening vital to business operations?
If a door is optional, a high-performance product may not be the right fit. However, as an example, if one is designing an airport cargo facility that needs to move cargo quickly in freezing weather to achieve a shorter layover, then the door's operation matters. The type of traffic going through the opening—including forklifts, utility vehicles, delivery vehicles, and heavy machinery—can necessitate a high-performance product.
For instance, in a condominium, the primary means of entrance for vehicular traffic is generally a rolling steel door or grille. If that door is down due to certain unreliable design elements such as spring failure, it will affect the ability of the residents to go in and out of the building.
Maintenance: Does the client want to avoid ongoing maintenance expenses?
Ongoing maintenance can mean anything from routinely replacing vital parts of the door—such as standard-issue springs—to service calls when a door breaks and is inoperable. One must consider the downtime and expense caused by scheduled and unscheduled maintenance. While high-performance products may have a higher initial price point than standard roll-up doors, the absence of maintenance requirements (outside of daily-use checks) can mean the high-performance product has a lower total cost of ownership.
Security: Is there a chance for unauthorized entry?
Since high-performance doors operate at a much faster rate than standard rolling doors, they help keep out vandals, would-be thieves, and other unauthorized individuals in a facility. This is ideal for multi-use commercial and residential condominium applications where liability and safety are major concerns for clients.
Answering yes to two or more of these questions means it is likely a high-performance rolling door is needed.
Conclusion
The architecture and design industry will continue to advance its mission to reduce energy usage and increase sustainability. Considering industrial and commercial spaces account for 51 percent of energy consumed by end-user sectors in the United States, architects designing within this space can create real and lasting change by addressing heat transfer and air leakage.5 High-performance rolling doors, especially insulated products, are one solution to these problems. While they may have higher initial costs compared to a standard rolling product, the cost to repair and replace parts over the life of the building—
as well as the frustration and loss of productivity associated with the inability to use the opening—will far surpass the initial expense.
Siva Davuluri serves as director of product strategy for high-performance doors at CornellCookson. He has been in his current role for five years at the Mountain Top, Pennsylvania-based company, which is the largest coiling door manufacturer in the United States. Davuluri has more than a decade of experience in design, development, and commercialization of new products. He graduated from North Dakota State University with a master's degree in mechanical engineering, and completed a master's degree in business administration at Cornell University. Davuluri is also a member of the technical committee for high-performance doors at Door and Access Systems Manufacturers Association (DASMA) International. He can be reached via e-mail at siva.davuluri@cornellcookson.com.