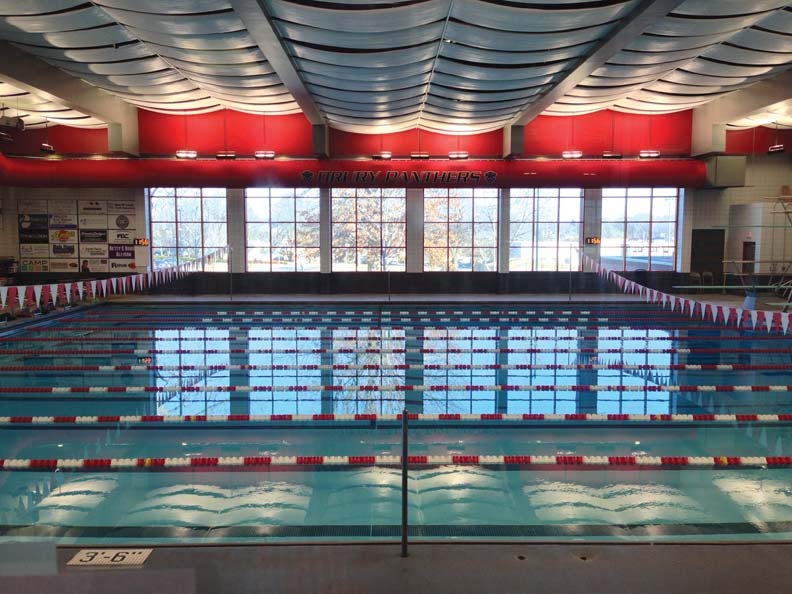 Athletes at Drury University's Breech Pool can worry less about swimmer's lung and irritated eyes, thanks to the retrofit of an HVAC system that has improved the building's indoor air quality (IAQ).
Located in Springfield, Missouri, the aquatic facility had not been updated or renovated in more than 25 years. Its existing system supplied less than four air changes per hour (ach) and pumped in very limited amounts of ventilation air. Additionally, the dehumidification and cooling system had not been working for a couple of years.
Given the system's poor performance, air quality in the facility was poor and the high levels of chloramines in the pool gave off a strong smell. Since trichloramines molecules do not easily dissolve in water, they become airborne. In addition, trichloramines are very corrosive, causing the facility's users to experience irritated eyes and swimmer's lung, which are potentially harmful to the health and athletic performance of swimmers and divers. Further, the existing system did not adequately expel the chloramine-filled air outside and pump in new air, which was expensive to heat, especially in winter when temperatures dropped outside.
The university decided to replace the entire system during a complete natatorium remodel. However, with limited space available, the engineering team turned to a custom HVAC system to sit outside the pool enclosure.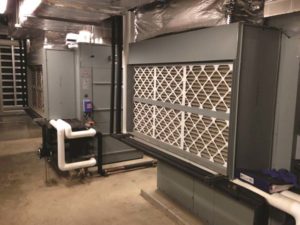 "The main challenge was to provide a new HVAC system in the space provided by the original system," said Cameron Collins of Springfield engineering firm, Malone Finkle Eckhardt and Collins (MFEC). "The first problem was getting the existing unit out of the basement and getting new equipment back into the space. It was determined the existing indoor mechanical room was too small to fit new equipment to get the targeted six air changes per hour, so the design incorporated three dehumidifier units: two vertical units in the existing space and one unit outdoors. The units work together in parallel when the pool is in use and stage as needed when it is not."
The outdoor unit allowed a purge system to be installed, harnessing the energy in the air to use it to heat the pool and the indoor air in the pool area, while reducing heating and energy costs, particularly in the winter months.
Along with the new HVAC system, the pool's interior was re-tiled and the pool deck was resurfaced with a more slip-resistant material. The facility's windows were also replaced, and new acoustic ceiling panels were also installed.